Posted on
GHS lass grabs Secondary Schools public speaking trophy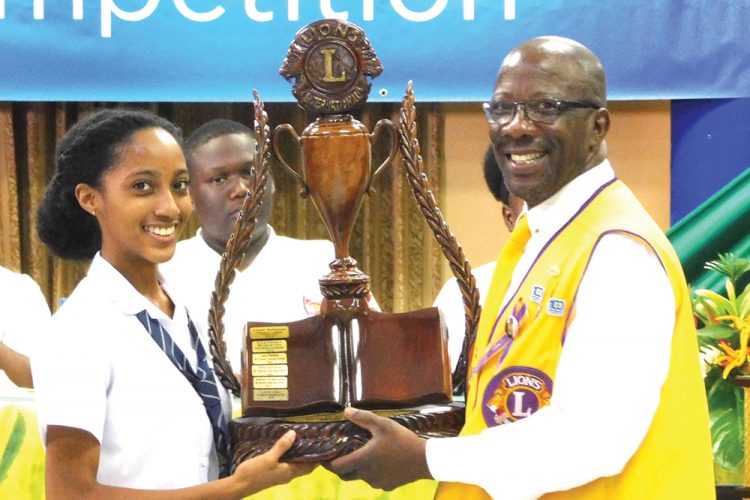 by Bria King
Disbelief and gratitude were the dominant emotions that Girls' High School student, Rishona James felt after it was announced that she had won the 2019 Lions Club South Flow Secondary Schools' Public Speaking competition.
The competition saw six secondary school students speaking on the topic "Should individuals who claim to be LGBTQ be afforded all Human Rights prescribed under International Law?"
Students also competed in the student prepared speech and impromptu categories.
And by the end of the competition, James came out on top in both the general and impromptu categories.
"I'm in disbelief for one thing. I'm thankful, very thankful. You can tell I'm in disbelief. I did not think that it was going to happen," the teenager told SEARCHLIGHT with a hand resting over the left side of her chest.
She said she was not sure if she would get to the finals and when she did, she did not expect to place first.
The fifth former also said that a lot of preparation went into getting ready for the competition and she extended gratitude to the teachers who helped her through the process.
"I was leaving class, practicing from eight o' clock in the morning to three o' clock in the afternoon and I didn't finish my student prepared speech until yesterday, so we went through a lot but it got me where I am so I'm thankful," she said.
In the first round of competition, which addressed the given topic, James said that affording everyone "all and equal human rights allows for more transparency and greater honesty".
"Based on my thorough research on the topic I have come to the resolve that LGBTQ individuals should be afforded all human rights prescribed under international law, not only on the sole basis that they are human, but more so that it will create a more transparent society, it will better reflect the Christianity of our nation and most importantly it reinforces the global stronghold of peace and multilateral harmony," she said.
The 16-year-old said that current anti-LGBTQ laws and societal attitudes were acting as a deterrent for individuals who are a part of that movement to be honest about their sexual preferences and orientations.
And as a result, they are being forced into heterosexual relations and marriages to curb suspicion and appease persons who are close to them.
"These situations happen right under our noses and we refuse to acknowledge them for fear of the uncomfortable conversations. Individuals who identify as other in their sexual orientation are forced to be secretive and engage in risky, unsafe and sometimes unhealthy behaviours, and their sometimes fatal effects ricochet through families and communities. These unnecessary effects can be curtailed simply with tolerance from a society having inclusive laws which do not discriminate," she said.
James said that as a Christian society, people ought to be more christ-like on such a sensitive issue.
And while no-one is asking for acceptance or celebration of the LGBTQ lifestyle, people should put aside cultural and religious beliefs when dealing with things as serious as legality.
She also urged people to "remember that these laws also work for us, a population of people whose race has seen its fair share of discrimination globally. These laws are not asking for us to change or compromise our morality, but instead have a legal understanding of basic human rights".
In the impromptu category, James picked from the bag, the topic, "Exams". She started off noting that exams are requirements that must be passed in order to get to another stage and she alluded to some common exams that students must take in school. The Girls' High school student however, went on to speak of "social exams" that everyone has to go through.
"But many of us — all of us — have exams in our lives, social exams, tests that we have to go through, to get to another stage, reach another position in our development but we don't know these are exams so there is no way to study for them. We just have to recognise them when we see them and pray to God that he gives us the strength to go through this exam so that we can become a better and more improved person."
In the student prepared category, James spoke on the topic "Rape Culture". She told SEARCHLIGHT that it was a topic inspired by her annoyance with the men who approach minors regularly with ill-intent.
"I am fed up walking in the streets in my school uniform, clearly a minor, and big men shouting out to me, my friends and school girls I see crossing the road. I don't think it's right and that is what inspired me," the Form 5 Science student said.
The daughter of Joanne and Dougal James, Rishona is no stranger to the national spotlight having tied for first place overall in the Caribbean Primary Exit Assessment (CPEA) in 2015, while a pupil of the St Mary's Roman Catholic School.
However, it was Shaiyan Bowman of the Mountain View Adventist Academy who earned the judges nod in the student prepared category with her witty and informative speech on the "Minivans Hustle".
Bowman placed second overall in the competition.
Third place went to Danielson Ferguson of the St. Vincent Grammar School.
The other finalists were Stephen Lavia of the Intermediate High School, Eldonte Samuel of the Bishop's College Kingstown and Vickron Alexander of the Union Island Secondary School.