Posted on
Vincy Heat pulled off a 2-2 draw against Suriname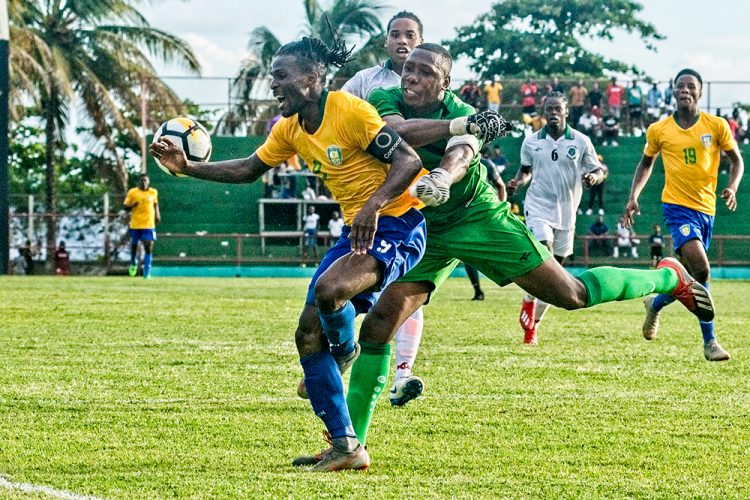 St Vincent and the Grenadines' Vincy Heat eeked out a draw against Suriname last Friday here at the Arnos Vale Playing Field in Group D of Tier B of the CONCACAF Nations League, to stay in contention for a Gold Cup spot.
The Vincentians, though, had a last gasp effort to draw level in injury time.
Seemed destined to go under to the South Americans, Vincy Heat pulled off a remarkable draw.
The host, after dominating the first 15 minutes of the match, failed to make use of the chances created, and found themselves trailing in the 26th minute.
This, after Suriname's talisman Glefofilo Vlijter made good of some indecision in the Vincentians' defence.
Vlijter added his team's second in the 53rd minute.
But the Vincentian team stayed in the match, making several forays on the Surinamese goal.
In one of the raids, Vincy Heat pulled a goal back in the 58th minute, though captain Cornelius Stewart, as his shot when through the legs of Suriname's goalkeeper and captain Claidel Kohinor.
And, deep into injury time, Stewart scored from the penalty spot after he was awarded the spot-kick when he was bundled over by Kohinor.
Head coach of Vincy Heat Kendale Mercury noted that his team "showed heart", after being two goals down on the top-of-the-table team.
Assessing the team's performance, Mercury said: "We didn't take our chances… We didn't shoot the football, that's why we dropped the two points".
Mercury disclosed that the offending players who were guilty of missing the chances, said they "froze" in decisive moments, in the attacking third of the field.
The draw had put Vincy Heat on five points from three matches, while Suriname stayed on top of the group on seven points, also from three matches.
Nicaragua and Dominica are the two other teams in the group.
Vincy Heat were set to play the return leg last night at the Andre Kamperveen Stadium in the Surinamese capital, Paramaibo.