Posted on
Women unite, empowered at Mije conference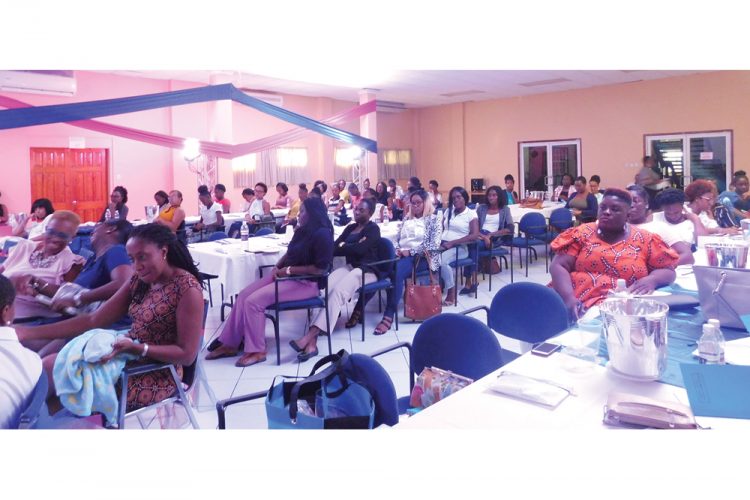 by Bria King
Over 70 young women were left feeling empowered last Saturday when a local personal development agency executed the "Women Unite to Empower" conference.
The conference, under the banner of Mije, hosted the conference which featured a number of professional women imparting knowledge on a variety of areas to women who were interested in gaining development tools necessary to excel professionally.
Jean Johnney-Findlay, organiser of last Saturday's event, told SEARCHLIGHT that her personal development and advertising agency, Mije became defunct some years ago, but she was encouraged to start imparting this kind of knowledge once again.
"Businesses sometimes channel their finances in other areas and don't always hire for personal development training. They expect you come in with these soft skills and I was speaking to a friend of mine a few months ago because of what I had witnessed and she said, you need to start back this," she explained.
Saturday's programme, which was held at Methodist Church Hall, featured speakers like psychologist, Dr Jozelle Miller; lawyer, Rochelle Forde; communications officer at the ministry of health, Neeka Anderson-Isaacs; HR and training consultant, Janelle Allen; marketing manager, Nikala Williams; chief operations officer at SVG Tourism Authority, Faylene King and forensic psychologist, Kamecia Blake-Byam.
Topics spanned, but were not limited to health, marketing one's self using social media, grooming, knowing one's self worth, finances and communicating effectively.
Each segment honoured local trailblazers who exemplified each topic of the day.
"We have some women who would have done what we are doing today in terms of helping to empower women because this is about empowering women and teaching them the skills necessary to be stronger, more independent, to function in the challenges that they experience daily and these trailblazers were typical examples that we could have pulled. There are lots more. These are not just all, there are lots more," Johnney-Findlay said.
She added that "this being the month of Independence, I said you know, it would have been nice to pay tribute to them so persons can know because some of them have never heard about Shirley Byron-Cox, Viola John, Earlene Horne and Ercelle Cummings".
Other trailblazers honoured included Joann Ballantyne, Gloria Ballantyne, Vernalyn Blencowe, Jean Duncan, Nelcia Robinson and Norma Keizer.
Several of the women present could be heard expressing their satisfaction with the one-day conference.
And the organiser agreed that it went well as participants were "sharing and you could see them, their faces, agreeing with what was being said and I think everybody who came here today would have left with at least one or two items".
She said that the sessions were very powerful and that people need to be more positive so that they could understand the level of confidence needed to survive in today's challenging society.
Johnney-Findlay concluded that the event will be held again.