Posted on
Republic of China on Taiwan celebrates 108th National Day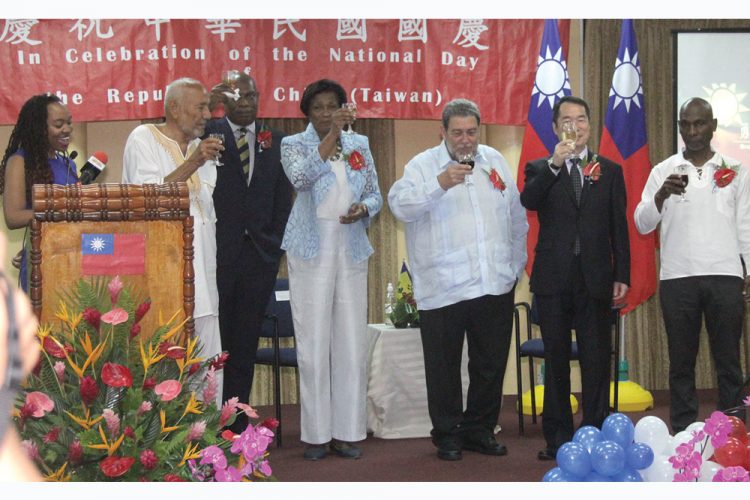 The Republic of China on Taiwan (ROC) represents a new economic development model, centred on innovation, artificial intelligence, green energy and advanced technologies.
"Google has just announced plans to expand investment and operations in Taiwan, while Japan-based Honda also invested more than US$100 million to boost production capacity," stated Ambassador of the ROC to St Vincent and the Grenadines (SVG), Calvin C.H. Ho.
Ambassador Ho was speaking at the 108th National Day of the ROC during a ceremony at the Methodist Church Hall in Kingstown.
The Ambassador said that the ROC's economy is 13th largest in the world among 140 countries surveyed and they are recognized as one of four super innovators.
He noted also that his country has been very successful in attracting Foreign Direct Investment (FDI) and on July 23, 2018, his government established the Invest Taiwan Service Centre to attract even more businesses.
"Foreign enterprises have since increased investment in Taiwan," stressed the Ambassador.
He added that the government has agreed to assist returning Taiwanese businesses with items such as land, power, water supply, labour and human resources and this has seen a record number of Taiwanese businesses returning back home.
Despite these accomplishments, the ROC is still not recognized by several international organisations including the United Nations (UN) and the World Health Organisation (WHO). Ho stressed that while his country did not receive an invitation to attend the 72nd World Health Assembly, they had the support of 15 countries who spoke out in support of Taiwan.
"We will continue to forge strong links," said Ambassador Ho who added that Taiwan is grateful for SVG's support at many levels including at the UN.
He added that Taiwan has proven to be more than deserving of a meaningful role in the specialized agencies and bodies of the UN, but is still not being recognized.
"Despite facing international challenges, we have remained firm in upholding the core values of democracy and freedom, showing strong resilience and safeguarding Taiwan's sustainable development," said Ambassador Ho.
He noted that looking ahead, government will continue to pursue policies that promote national prosperity and public well being and so upgrade and further transform Taiwan's economy.
The Ambassador said that over the years, Taiwan has played a crucial and indispensable role in helping their diplomatic partners develop and this is still being done through diverse international cooperation and humanitarian assistance.
Ambassador Ho said that Taiwan is committed to sharing their expertise in areas including smart technology, education and social welfare and in this way, they will continue to be an indispensable partner across the globe making substantial and meaningful contributions.
SVG and the ROC share 38 years of diplomatic relations and the Ambassador noted that the ties have become even more stronger with the establishment of a Vincentian embassy in Taiwan earlier this year.
He said that SVG and Taiwan have worked on several successful projects in health, farming and education and most recently, the banana revitalization project (which both governments signed in May, 2019) is allowing Taiwan to share their agricultural know how with Vincentian farmers to combat local banana disease and revitalize the banana industry.
He said Taiwan is grateful for SVG's Friendship and noted that October is a special month for both countries, as they celebrate their birthdays in this month.
The ceremony also heard from Prime Minister Dr Ralph Gonsalves and former prime minister and founder of the New Democratic Party (NDP) Sir James Mitchell.
The NDP has stated that if they were to come to power, they will sever diplomatic ties with Taiwan and embrace the One China policy.
In his address, Sir James said that Taiwan has helped SVG over the years.
"I am one of those who also likes to use the word thanks and accordingly I would be failing in my duties with the experience that you have given me, the people of St Vincent, not to say something at least to say one word of thanks," said Sir James.
He added that by saying "thanks", it shows that democracy is still alive in SVG.
Prime Minister Gonsalves noted that the close relations that this country has with Taiwan has benefited us tremendously and it is unfortunate that the NDP has announced in advance that if they were to come to office, they would break relations with the ROC.
"It is not too late for them to change their mind and I am urging them so to do," said Gonsalves.