Posted on
Former NDP leader giving way in East Kingstown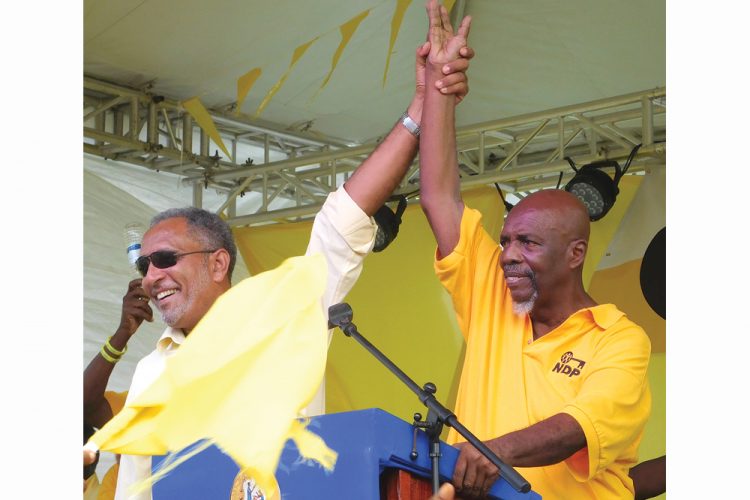 Arnhim Eustace, in officially announcing his intention not to contest in the next general elections, has asked Leader of the Opposition Dr Godwin Friday to look after the East Kingstown constituency, to whom he owes everything.
Since 1998, through five consecutive general elections, Eustace has never budged as the Parliamentary Representative for the East Kingstown constituency; but on Sunday he announced that this 21 year "love affair" is coming to an end.
Eustace's speech during the rally segment for the 41st annual convention of the New Democratic Party (NDP) held at the Arnos Vale Playing field, was centered around giving thanks to the people in East Kingstown.
The former leader was greeted well by the yellow clad supporters filling up many seats of a large stand at the Playing Field, and, particularly enthusiastically, by those that had taken up position below the stage with flags.
"I feel that it's very important to me today, on a day like this in particular, to say to the people of East Kingstown, my people. I say to you, that to me you are very dear, very important," the former Opposition leader said, admitting that he loved them.
He praised their commitment to the NDP, recalling that when he was first elected only three seats in Parliament were taken by the Opposition. Two from the Grenadines, and East Kingstown.
"East Kingstown therefore represented all the mainland constituencies. Twice in the history of this country, twice, East Kingstown alone was in this Parliament," he emphasized.
"We have to thank the people of East Kingstown for their faith in the New Democratic Party, their support to the New Democratic Party. Where others have failed, they were always there. East
Kingstown was always there," he stated.
The representative says he owes them everything as far as politics is concerned, because without them the NDP would not be what it is today.
"They kept backing us up, kept coming forward and making sure that NDP always had a seat besides the Grenadines in the Parliament of St Vincent and the Grenadines(SVG). Nobody else could boast about that, nobody else," he stated.
What East Kingstown has done is not easy, the Representative noted, because they took "all the licks" because of it.
The people of East Kingstown have done more than their share, he said.
"My heart goes out to you, the people of East Kingstown. Without you, in politics, I would be nothing," he stated.
As he spoke, someone from East Kingstown in the audience said that they were going to continue to support, and Eustace responded that he would hold them to that.
"You're not moving?" he asked them, and they replied, "No we're not."
Eustace chuckled as he stated, "My time coming… My time is coming. But I know that the New Democratic Party of East Kingstown will continue to do its best for this country, St Vincent and the Grenadines."
"When everybody buckled East Kingstown stayed strong and stood and continued to support the New Democratic Party," he continued.
"This is the reality that we face every day. That East Kingstown people are the ones who really kept us alive for a long period of time and now…" Eustace stated, "we're now going to a new period, but in that new period I will not be there…I will not be there."
He said he already told the party that he was not running again. However, he promised that "I will be continuing to work for the New Democratic Party, on the radio programs I will still be there and everything but I will not be a candidate in the next election."
"But I am confident that whoever you put there, they will do the same job, and even better than I can do it," he continued.
As he was saying his last thanks to East Kingstown, the Leader, Dr Friday came up to stand beside him. He turned to Friday and said "And Doctor Friday let me tell you something you know. Look after East Kingstown you know. Look after East Kingstown."