Posted on
Cuban doctor saves life of man disemboweled in cutlass incident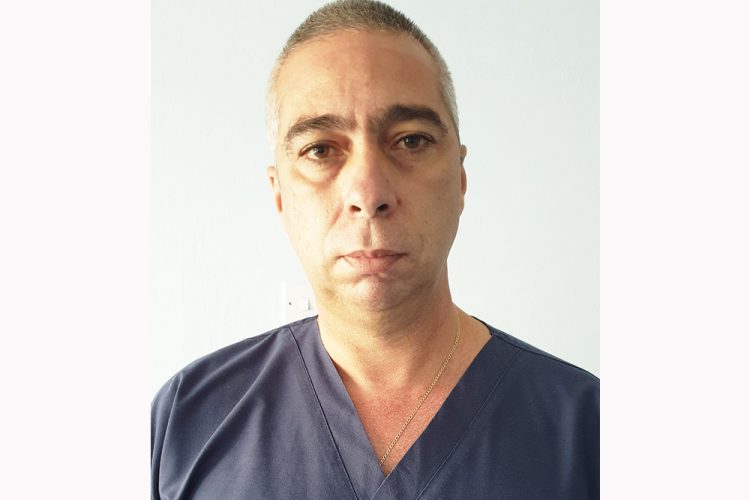 The three-hour surgery that saved the life of Byera resident Michael "Mike" Woods was a complicated one but made possible because of the availability of the medical expertise and modern facilities.
Woods, 56, survived a vicious chop that left his intestines hanging out of his body and necessitated emergency surgery at the Modern Medical and Diagnostic Centre (MMDC) at Georgetown.
Woods, a farmer, was wounded on Tuesday around 8 am while tending his animals at Gorse in the north central windward area of St Vincent.
He was taken to the medical facility in Georgetown where he was operated on by Cuban surgeon Dr Horlirio Ferrer-Robaina.
Dr Ferrer-Robaina has been in the country for a year as a general surgeon and has 22 years experience in the field. He was trained in Cuba and has also practiced in Venezuela.
"It is a very important lesson because all his intestines were outside his abdominal cavity and the patient had a large wound in the small intestines," Dr Ferrer-Robaina told SEARCHLIGHT on Thursday.
He said that he and other medical personnel worked on Woods and put everything back into place before closing the wound.
"He is stable," stressed Dr Ferrer-Robaina who used the term anastomosis (a connection made surgically between adjacent blood vessels, parts of the intestine, or other channels of the body) while stressing that with any surgery, there can be complications, but Woods is safe at the moment.
The doctor said that he is not sure how long Woods had been wounded before he arrived at the hospital, but he got to the facility quickly, so the operation was done in good time.
"It was not a simple operation, but a big one, but I have done operations like these before," said the doctor who added that the facility does all types of operations daily.
"It is a great facility and very modern and up to international standard," he said while adding that he has a three-year contract that may be extended to four years.
Dr Ferrer-Robaina added also that as part of his stint here, he also imparts knowledge and he enjoys working with the staff at the facility as they are very professional.
Deputy Hospital Administrator at the facility Idinger Miller told SEARCHLIGHT on Thursday that they were pleased that the facility, through their skilled general surgeon was able to perform the life-saving procedure.
"I feel the need to highlight that over a period of one week, two lifesaving procedures were performed right here at MMDC," Miller commented. The other procedure was on a child.
Miller added, "I must stress the importance of teamwork because it takes everyone's best effort. I commend all staff, the dedicated surgical team, the nurses, administration and the ancillary staff they all played vital roles."
The deputy administrator noted that the fact that they now have an onsite blood bank, aids in the speedy and efficient care of patients.
"As we continue to expand on the services offered the public can look forward to more specialized care both clinical and diagnostic," Miller promised.
l Also see Back Page