Posted on
Sale of Scotiabank in SVG to be finalised soon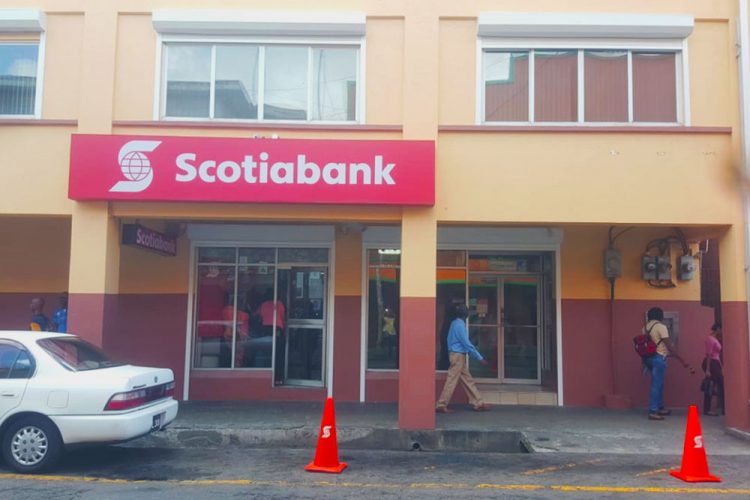 The sale of Scotiabank's banking operations here to Republic Financial Holdings Limited (RFHL), the owners of Republic Bank, may conclude as early as September 30.
It was announced in November 2018, that Scotiabank, Canada's third-biggest lender intended to sell its operations in several Caribbean countries including Anguilla, Antigua, Dominica, Grenada, Guyana, St Kitts and Nevis, St Lucia, St Maarten and St Vincent and the Grenadines.
It was later announced that the buyers were RFHL, which is headquartered in Trinidad and Tobago. And in a letter sent to its customers this week, Scotiabank outlined "an important change expected to take place in the coming weeks".
"At this point in time, we confirm we have received regulatory approval from the Eastern Caribbean Central Bank to proceed with our transaction in Anguilla, Dominica, Grenada, St Lucia, St Kitts and Nevis and St Vincent and the Grenadines, which is still subject to obtaining local regulatory approvals. We expect this transaction will close between September 30, 2019 and October 31, 2019," the letter said.
The letter informed customers that after the completion of the sale, products and services will be transferred to Republic Bank and they are not required to take any action with regard to these procedures.
It also said that Scotiabank will support the Republic Bank as the new owner, through the provision of certain services during the post-closing period so as to help with a smooth transition.
"We are confident that you will benefit from Republic Bank's long history of customer service and their well-established presence in the Caribbean. We invite you to call the Contact Centre between now and the date of closing should you have any questions or wish to make any changes to your accounts," the letter said.
Joseph Burns Bonadie of the Commercial, Technical and Allied Workers Union told SEARCHLIGHT on Wednesday that it is likely all present staff at Scotia Bank in St Vincent and the Grenadines will remain once the sale to Republic Bank is finalised in the upcoming months.
Bonadie, who represents the local workers at Scotia Bank, has been in negotiations with the financial institution since the announcement of the sale.
He told SEARCHLIGHT that they have since signed a new collective agreement, which is valid for three years and retroactive from the time that the last agreement expired.
He added that one year has already gone with this new agreement and meetings with the Human Resource Department of the Republic Bank confirm that they will take over the signed agreement for the remaining two-year period.
"We have negotiated a completely new collective agreement which gives them wage increases and more holidays with pay and that sort of stuff. And the new entity, they have also agreed that the agreement will be binding on them," Bonadie said.
He said they also negotiated that "from the 16th, I think it was, of last month, we agreed on a reduction on the hours of work and we signed off on it. The hours of work will be reduced down to 40 hours a week, Monday to Thursday 7:45 a.m. to 3:45 p.m. and Friday from 7:45 a.m. to 5 p.m."
Bonadie said that he is still in negotiations with Scotia Bank concerning one outstanding matter and once that is resolved, all negotiations will be complete. He added that he has been in contact with Scotia Bank representatives this week and conversations will continue.