Posted on
Over EC$35,000 worth of ICT equipment donated to Mayreau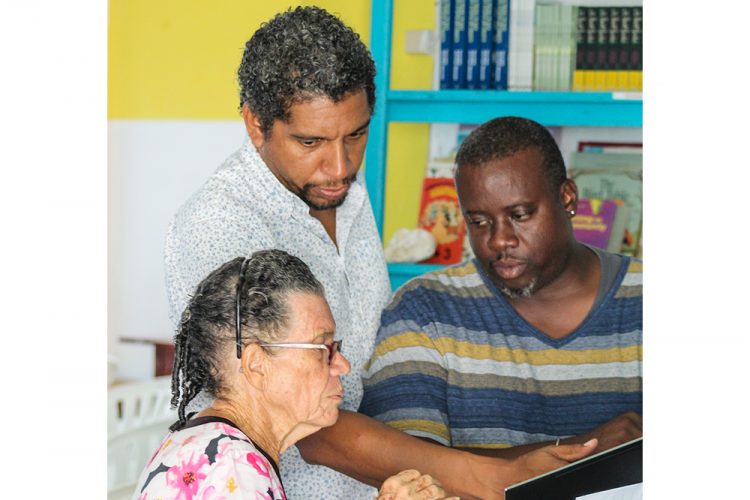 Persons on the Grenadine island of Mayreau are now better equipped to access Information and Communications Technology (ICT) training.
This, as last Saturday, September 14, the National Telecommunications Regulatory Commission (NTRC) delivered EC$35,189 worth of ICT equipment to the Mayreau Community Centre.
The handing over included 13 digital devices with name brands such as HP (four laptops), Acer (three desktops), Epson (projector), Nikon (camera) and six Samsung tablets. The facility is also airconditioned with surveillances cameras.
"We paid for the best for the community centre and people of Mayreau," Minister of Finance, Economic Planning, Sustainable Development, and Information Technology Camillo Gonsalves commented during the handing over.
Gonsalves said the donation is very important as St. Vincent and the Grenadines (SVG) continues to develop, as we do not want to create a digital divide in SVG.
"It is very important to us that whatever we have, and we are not a rich country, but whatever we have, it must be distributed as evenly as possible between and among all of the people of St. Vincent and the Grenadines," Gonsalves explained.
He said this is critical because what has happened in many countries is that there is a digital divide between the wealthy and the poor and therefore the poor suffers.
Gonsalves said the NTRC's vision is to share the money accumulated through the Universal Service Fund (USF), to bridge and balance the digital divide.
"Many regions collect the money and do not spend it, but we spend our money very often, and regularly, on projects. This project is part and parcel of our effort to bridge the digital divide.
"Small and distant areas can suffer sometimes when it comes to technology or people will say its just a few of them there, it's best if we invest the money elsewhere, because if we invest it elsewhere it might reach more people but the important thing here is to reach everyone," Gonsalves noted.
He added that the equipment will remove some of the barriers and allow young people to think of technology and ICT as an area in which they can grow professionally and gain comfort.
The technology minister said the next generation of young people must be comfortable with technology and you can't get a job anymore and not be computer literate.
"Those are things that disqualify you in the next generation's job market at whatever level," said Gonsalves who is hoping the community uses the equipment regularly.
President of the charitable organisation 'We are Mayreau', Marion Isaacs said she volunteers at the centre and she is looking at using the equipment to help primary school students get involved in coding and adults involved in basic computer literacy courses.
Isaacs noted that there are 40 kids in primary school and 20 in secondary school and the adult education classes has about 10 persons, so this is the first time they are able to provide enough equipment.
Universal Service Fund (USF) Administrator at the NTRC Kyron Duncan said the donation of the equipment is a culmination of a lot of work beginning over a year ago in June 2018, when an NTRC team visited Mayreau where a community meeting spoke about the need for ICT equipment.
"At the meeting residents thought we were not doing enough for Mayreau as it relates to the provision of access to ICT training, as persons do not have the ability to travel back and forth from Mayreau to the mainland to take classes," said Duncan.
He noted that this placed residents of Mayreau at a grave disadvantage, and noting this, the Director of the NTRC Apollo Knights made a pledge to assist Mayreau and this is what has been done.
The equipment was noted under the Community Access Project.