Posted on
VINLEC adds fully electric vehicle to its fleet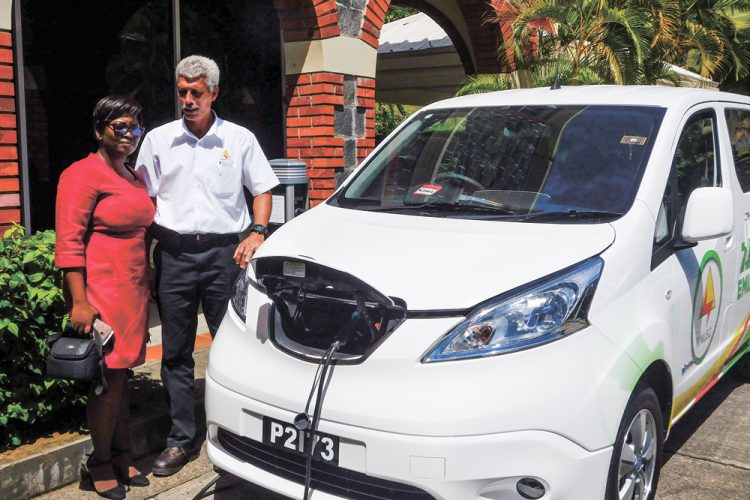 The addition of an electric vehicle to the St Vincent Electricity Services Ltd's (VINLEC) fleet of vehicles will help the utility company to educate the public on its possible benefits and effects on the environment.
VINLEC held a press conference on Wednesday to officially announce the addition of the Nissan e-NV200 7-seater van, which is said to generate zero emissions into the atmosphere because of its electronic nature.
Tamara Job-Sprott, the communications officer said that the van will be used mainly for courier services between the company's various locations.
But Job-Sprott also said that the vehicle provides an opportunity to test what is happening with the technology as well as the environment.
"With this vehicle, we intend to do some data analysis, so we are going to compare what is happening with the electric vehicle, with what is happening with our petrol vehicles because they are running similar routes. And already in our environment, we collect data on what happens with our vehicles so we will be able to compare what is happening with the electric vehicles with what is happening with our gas vehicles and determine what sort of changes, how much electricity is consumed to run the vehicle, compared with how much gas," she said.
The communications officer also said that "it will drive how we make decisions as we go forward with electric vehicles and we will also have the data to provide to persons who may wish to understand how electric vehicles work in our country."
Andrew Nichols, VINLEC's vehicle maintenance supervisor was among a small group of persons who spent a period of time in Barbados learning about electric and hybrid vehicles and the differences between these and conventional diesel and gasoline vehicles.
Nichols said that the utility company's new vehicle operates with a 40 kilowatt power battery instead of an engine. He also highlighted various safety mechanisms that are a part of the vehicle's system.
"This vehicle also has a feature which is regenerative breaking, so when you are on an incline, coming down a hill, once you release the accelerator pedal, it goes into that regenerative mode and helps to recharge the batteries," he explained.
"It also has what is known as a 'B mode' on it and when you engage this mode, it also slows the vehicle down a little more and it also charges the batteries a little faster so if you drive the vehicle and use this mode, you may end up using less brakes to slow the vehicle down…"
The vehicle maintenance supervisor also demonstrated the regenerative breaking feature as well as how the vehicle operates by taking media on a test drive.
The electric vehicle is silent in comparison to others that use gasoline or diesel for which you can hear the engine running. It is also started with the push of a button instead of inserting a key into an ignition.
He said based on research on highways, the vehicle can travel between 193 and 223 miles between charges. However, "… because of our hilly terrain, it would have to use more energy to go up the hill…" Nichols told media.
VINLEC also installed a charging station at its corporate headquarters in Kingstown where the vehicle can be charged.
Nichols said that charging, using the Stage 2 charging unit installed there can take between four to eight hours, but there are other chargers such as a Stage 3 or rapid charger that can charge the vehicle to 80 per cent in 40 minutes.
According to Nichols, electric vehicles of this type cost in the region of 25,000 British pounds and the battery has a working life of about seven years.
This is not the first electric vehicle in St Vincent and the Grenadines. The Energy Unit in the Government of St Vincent and the Grenadines owns two such vehicles.
But VINLEC's communications officer said that the utility company is proud to now own an electric vehicle, particularly in an industry where technological changes are consistently taking place.