Posted on
Ferguson, Cadogan top year group again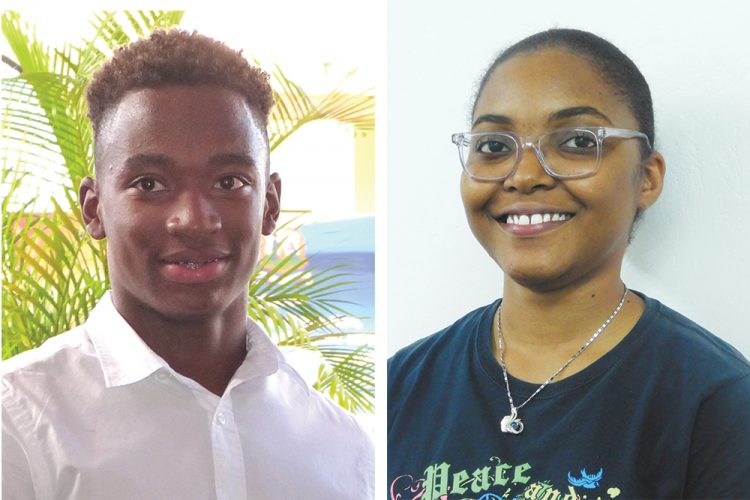 Consistency and balance are the recurring themes behind the academic success of this country's top two performers in the Caribbean Advanced Proficiency Examinations (CAPE) for 2019.
Ianá Ferguson and Shane Cadogan both recorded exceptional results in this year's sitting of the CAPE, with Ferguson receiving six grade one passes and Cadogan, five grade one passes. Their emergence at the top of their year group is a story that was first told in 2012 and again in 2017.
Ferguson received her grade ones in Unit 2 of Biology, Chemistry, Physics, Pure Mathematics, Computer Science and Caribbean Studies.
She also has all Grade one passes in Unit 1 of Biology, Physics, Pure Mathematics and Computer Science and a Grade one as well in Communication Studies, which is a single unit subject.
"Just normal, I guess," the daughter of Fay Ferguson said, while trying to describe how she felt about her performance. "I guess the best way to put it is, when I opened my portal, I was tense and then I was not tense, so I don't think it's any particular feeling."
The 19-year-old said that while she had some reservations, she did expect to receive all Grade one passes.
She said she prepared for CAPE differently than previous exams, which meant that she studied more frequently and never left the work to pile up. As a musician, Ferguson said that classical music helped to relax her a lot during her preparations.
Ferguson first made news in 2012 when she was named the top performer in the Common Entrance Examinations. She was again highlighted by media two years ago when as a student of the Girls' High School, she copped a total of 20 subjects in the CSEC examinations, which included 19 ones and a two.
"When I did my CSEC subjects, a lot of people had negative stuff to say, so I just wanted to tell the children who are going to do CAPE or CSEC, if you have something that you want to do, whether its a dream or goal, don't let people tell you that you can't or let negative comments affect you," she said. "I remember some people saying that there was no reason to do 20, why did I want to do 20; I was showing off — which wasn't true — and I know things like that can affect people, so I just want to give them some motivation."
She further encouraged future students to not waste time, to remain focused and take exams seriously while still making time for recreational activities and to always listen to teachers because they truly want the best for you.
The teenager thanked God for seeing her through examinations, her mother and friends for broadening her perspective and teachers for the time they spent helping her to prepare.
The 19-year-old has dreams of becoming an engineer although she is not quite sure what type of engineering she will pursue.
She told SEARCHLIGHT that she will spend the next couple of months trying to decide so that she can begin applications to Ivy League universities in the United States.
For Shane Cadogan, balance was key to him receiving his five grade one passes in Unit two Biology, Chemistry, Physics, Pure Mathematics and Integrated Mathematics.
He also has Grade one passes in Communication Studies, and Unit one Biology, Chemistry, Physics and Pure Mathematics.
The national swimmer, who is a member of the Blacksands Swim Squad, said he is elated that all his hard work in the last two years has paid off.
"It was also satisfying to continue balancing swimming, national swimming and school and being able to get top grades for all the subjects that I did. So I'm elated and satisfied at the same time," he said.
While at school, the 18-year-old son of Andre Cadogan and Dr Simone France managed a strict schedule where he attended classes during school hours and engaged in training and extra gym activities between 5 pm and 8 pm. He said that 9 pm to midnight was reserved for school oriented activities whether it was assignments, homework or studying.
"It's a balance I've had for my whole entire [St Vincent] Grammar School life. It's a balance I've learnt to master from Form one up until now, so I would say it's been way easier now. I mean college load is more but just having that balance already nurtured from small, it was an easy transition and easy to keep it maintained," Cadogan said.
In 2012 he was the top male performer and second overall in the Common Entrance Exam and two years ago, he was again the country's top male performer in CSEC, securing 13 grade one passes to add to the grade one he received in Math the previous year.
The Ratho Mill resident has already been accepted to Stanford University in California and will leave St Vincent in September to begin his four-year undergraduate degree. He has hopes of becoming an orthopaedic surgeon.
The athlete also told SEARCHLIGHT that he will continue swimming with a club at Stanford and pursue his dreams of going to the Olympics.
"I have to obviously give praise to God because when I swim and do my academics, it's all in his name and then my family, my mom, my dad, my grandparents, my sister and even my friends who I consider my family also, have always played a key role in anything I put my mind to and I just want to make sure they get the credit that they deserve in the person I am today," Cadogan said.