Posted on
Six members of Dolphin Taekwondo club improve ranking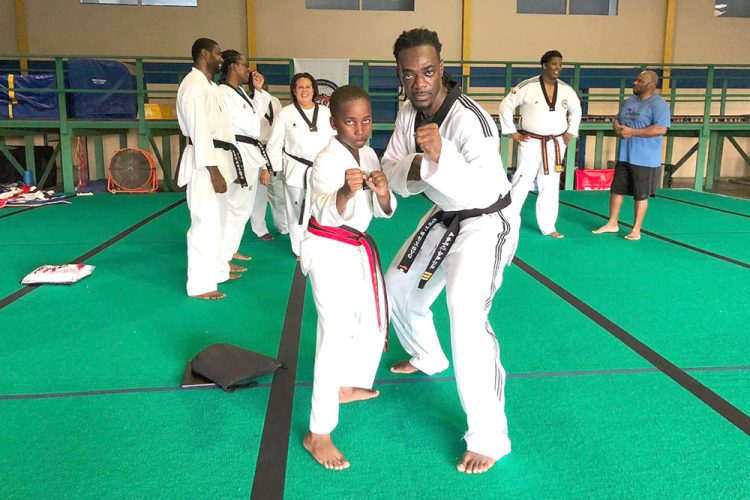 Six Vincentians have moved up in rank and are now all holders of varying degrees of black belts in Taekwondo.
For the past week, members of the Dolphin Taekwondo club engaged in training sessions with Master Edmund Johnson, a fifth degree black belt master from Bermuda and were able to improve their ranking in the martial arts form.
"We did three separate sessions. Three days of sessions, practical and theory. We learnt how to structure classes, we went over basic moves, reinforced some things that we knew before and we learnt a few new things. I know that the other participants, they walked away happy. They all learned something and we were graded as well," Emulas Alexander, the Dolphin's Taekwondo instructor told SEARCHLIGHT.
Alexander, who also took part in the training, was able to receive his third degree black belt. Another individual who took part in the training received their second degree black belt while four others moved from red to their first degree black belt.
Johnson, the training facilitator is also a representative of Champion Taekwondo International, an international body with schools and representatives across the world, including in Pakistan, Slovenia, Chile, Bermuda and the United States.
And he said that he also took the opportunity to begin the process of adjudication at the Dolphin Gym and has made it a part of the larger international family where they can train and have access to various materials.
He also told SEARCHLIGHT that he will be returning here at least twice a year to continue the process and to ensure that the club is operating as it should in terms of athlete management and other taekwondo related issues.
"With me coming to St Vincent, and bringing my organisation here, I want to use St Vincent as a base to one day build a sport expo so with myself and Dolphin Gym, we can one day do a Caribbean Sports Expo – so basically, it will be a championship that's being held and hosted by Dolphin but it's in league with my organisation…" he said.
Johnson, who has been training in the art form for more that 25 years, said that Taekwondo is extremely beneficial in helping children develop advanced social skills and teaching them team work.
Alexander, the local instructor also attests to the many benefits of the sport and said; "you learn self defence, especially with the environment today in St Vincent…they improve their confidence, self esteem, just the goal of accomplishing something, changing a belt, going up another rank, just the sense of accomplishment does a lot for them with their self esteem and all that".
He added that the registrations to start training with Dolphin are always open and all persons from the age of five are welcome.
The Dolphin Gym has been offering Taekwondo for almost a year. Sessions are on Tuesdays and Thursdays from 5:30 to 6:30 at the Mustique Hanger at the decommissioned ET Joshua Airport in Arnos Vale and registration forms can be had online or at the gym.