Posted on
SVGS honours retired teachers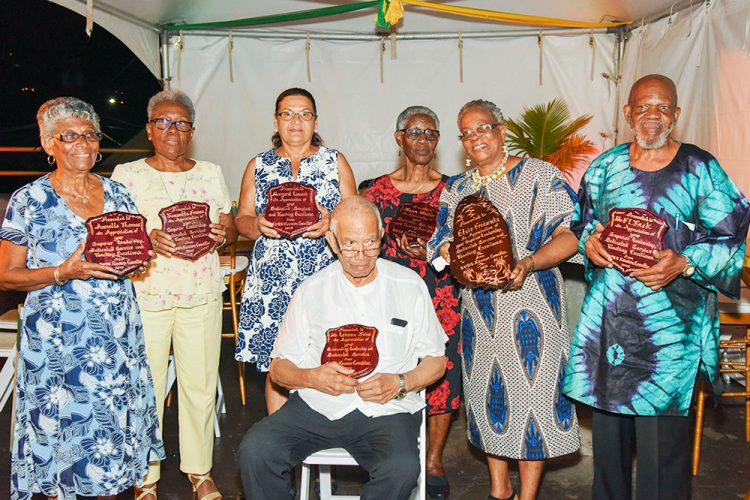 For their contribution to education, seven retired educators who once taught at the St Vincent Grammar School (SVGS) were recognized last weekend.
The group, made up of seven former teachers and headmasters, was honoured last Saturday by the St. Vincent Grammar School Reunion Committee during a ceremony held at the rooftop of Chill Spot Bar and Grill in Villa.
Recognized for their contribution were Jean Walker, Margaret Leacock, Jeanette France, Annelle Thomas, Elsie Frederick, Franklyn Irwin "FI" Jack and Lennox John.
Walker joined the staff of the SVGS in 1974 and retired in 1988. She was a mathematics teacher. Leacock started teaching at the school in 1973 and taught Spanish. She retired after 31 years but not before being appointed headmaster from 2001 to 2004, becoming the first and only female to have held that post.
France started at the school in 1978 and quickly rose to head of the English department. She was Deputy headmaster from 1992 to 1994 when she retired. Thomas started teaching English at the SVGS in 1970. She also taught history. Thomas was acting deputy headmaster between August 1988 and March 1988 and retired in 1996.
Frederick is best known for her heroic rescue of a student who had climbed onto the roof of the school in a suicide attempt. She began teaching in 1970 and taught English, history and social studies. She remained at the school until 2003.
Jack joined the staff in 1969 and rose through the ranks to become deputy headmaster. He left in 1991. John is a past student of the school who joined as a teacher in 1960 but left to pursue a higher education. He then returned in 1989 when he was appointed headmaster. He retired in 1997.
Chairperson of the St. Vincent Grammar School Reunion Committee Christo Primus said the group wanted to recognise the former teachers as they played a significant role in the moulding and development of many persons over decades.
"Now they have retired, we think they are forgotten, and while the school may recognize them, students sometimes don't so we came together to do it," Primus explained.
He added that the reunion committee plans to hold recognition ceremonies of this nature every year and they have started with the more senior teachers.
Addressing the ceremony, Curtis King, immediate past headmaster told the gathering it was a great idea to recognize the stalwarts.
He added also that he is hoping that the St Vincent Grammar School Reunion Committee can lead the effort to revive the school's Alumni Association.