Posted on
Sir Vincent will be laid to rest on Monday, August 19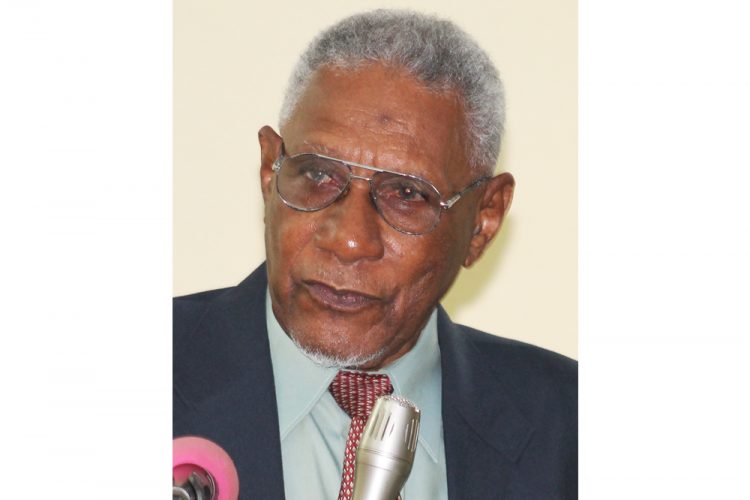 Sir Vincent Ian Beache will be laid to rest on Monday August 19.
One of this country's longest serving politicians, Sir Vincent died at 3:10 last Monday morning at his home at Spring Estate. He passed after a period of illness, one week short of his 88th birthday.
After his death, hundreds of Vincentians took to radio and social media to pay tribute to the former Unity Labour Party (ULP) politician; the opposition New Democratic Party (NDP)
recognized Sir Vincent as having left "a legacy that cannot be ignored," and said: "Sir Vincent was a notable politician who served this country with merit in several capacities over the years."
Prime Minister Dr Ralph Gonsalves, speaking via telephone from Taiwan announced that Sir Vincent, the husband of Lady Vida Beache, and father of six sons — Eugene, Alex, Keith, Stockton, Paul and Glen — will be given a state funeral.
"The government and people of St. Vincent and the Grenadines will provide a very dignified send off as befitting our civilisation.
"He will be given all the requisite honours at his burial because of his outstanding service, including as Leader of the Opposition," prime minister Gonsalves told radio listeners, further describing Sir Vincent as one of the most successful politicians in Vincentian history.
In an emotional tribute to Sir Vincent on radio Monday night, Gonsalves said he last saw his friend on Saturday, August 3, at which time he told him he loved him.
He said the ULP will protect Sir Vincent's legacy not only in words but also in deeds.
"Vincent Beache was one of the outstanding historical figures of the 20th century in St Vincent and the Grenadines and in the Caribbean," said Gonsalves, who noted that the veteran politician who entered politics in 1972 came from humble beginnings in South Rivers to occupy high offices of state.
Sir Vincent is a former Member of Parliament for the North Central Windward and South Windward constituencies. He served as Opposition Leader and was a Minister of Government under both the St Vincent and the Grenadines Labour Party administration of Milton Cato and the Unity Labour Party administration of Dr Ralph Gonsalves.
Sir Vincent retired from active politics prior to the 2005 General Elections but remained active in public life, serving as a close advisor to Prime Minister Gonsalves and on the boards of several Government owned companies and organizations. Sir Vincent also acted as Prime Minister at various times between 2001 and 2005.
The Prime Minister said that Sir Vincent was involved in several developmental initiatives during his time as a politician, including the revival of the sugar industry under the Cato administration, land reform, the building of the hospital in Georgetown and several initiatives in respect of agricultural diversification.
"He is the last survivor of the group that had come to Taiwan to establish diplomatic relations with the Republic of China," revealed Gonsalves.
"He was a very progressive nationalist, anti-imperialist and an advanced social democrat who looked out for the poor and the working people and the nation as a whole," the Prime Minister said, adding that Sir Vincent started the now popular Fisherman's Day in the 1970s.
Gonsalves also revealed that Sir Vincent was single-handedly responsible for the construction of the Belle Isle prison and also drove the process for the establishment of the Eastern Caribbean Civil Aviation Authority (ECCAA) while contributing to the establishment of the Argyle International Airport (AIA), the Canouan jet airport and many other important initiatives like the Campden Park Industrial Estate.
"He was my advisor, he was very wise, very experienced. You know I always tell people if Sir Vincent had studied law, he would have been an outstanding solicitor," said Gonsalves, adding that Sir Vincent was versed in electronics.
"He was instrumental in building the Unity Labour Party and building it into a winning coalition. He led the party in 1998 for us to get 55 per cent of the vote, but we lost by one seat…we lost in East Kingstown by 20 odd votes, said Gonsalves, who noted that Sir Vincent was always a champion of the working people.
"So you can see his handy work across a wide range of initiatives, he was very much involved."
Deputy Prime Minister Sir Louis Straker speaking on Monday described Sir Vincent as a very humble man, dedicated to his duties. He said that his former colleague experienced the agony and ecstasy of politics.
"I said the agony as it was a big experience for him to have lost the North Central Windward seat and of course having led the Labour Party with the biggest motorcade in the history of St Vincent in 1989 and lost all of the seats there under the Labour Party," said Sir Louis who was speaking via telephone from New York.
Sir Louis said he was with Sir Vincent in 1998 when the results of that year's elections came in and the ULP had 55 per cent of the votes, but lost the elections because of the first past the post system.
"…and he would have been Prime Minister but unfortunately because of the first past the post he was denied that position and we had to sit in Opposition, and we worked together until we got government in 2001," said Sir Louis.
Also paying tribute was Chairman of the ULP Edwin Snagg.
"I had the privilege of sitting in the Cabinet at one time for a period of five years at which time Sir Vincent was then the Minister of National Security and whenever they were certain issues that are technical in which there were a diversity of views you could always rely on the wisdom of Sir Vincent," Snagg said on radio Monday.
"He always had that practical knowledgeable approach. I don't think I can find enough words to speak of the contribution of Vincent Beache," Snagg added.