Posted on
Sharpes teen drowns at Villa beach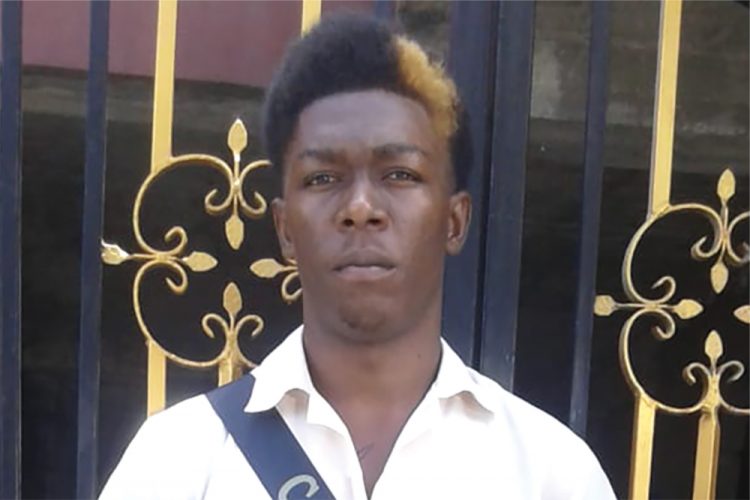 by Katherine Renton
A 19-year-old who recently graduated from a technical institute, drowned at Villa beach last Friday after hitting his head jumping off a rock with his friends.
Nicole 'Suzette' Lee-Homer spoke with SEARCHLIGHT on Tuesday, the day after the autopsy was conducted on the body of her son, André Homer.
Lee-Homer informed that the autopsy revealed that her son received a lash to his head, and because of this hit, he became semi-unconscious, and took in a lot of water.
She said that last Friday morning, her son left their Redemption Sharpes residence and went to Campden Park to distribute job applications, considering he had recently graduated from the technical institute there.
When Homer returned from doing this, he met some of his friends from the Paul's Avenue area and they decided that they were going to go to the beach.
"They say a few of them went on a rock across there, and they were jumping off," Lee-Homer relayed. "Well you know as they jump, they would swim to shore," the mother stated, and that Homer's friends had jumped before him.
"They say when they look they realize like he done jump, and when they look they see he was having like difficulty," the mother said.
One of his friends then went to try to help him, but the friend felt his chest tightening, and had to turn back.
"Another one say he went down twice and then he wasn't seeing him because he didn't have on no goggles or nothing," Lee-Homer said.
The mother said she was told that the coastguard had apparently been informed, and they came on scene, before leaving after searching the area and seeing no-one.
The mother was told that it was a guy from a yacht that went down and pulled her son out the water, and that it was a woman who applied CPR until the ambulance came.
Homer was said to be an athletic teenager who loved to play football. Before he went to the Campden Park Technical Institute, he attended the Dr JP Eustace Memorial Secondary School.
"Everybody know you see André, even self he doing something wrong and like you talk to him and ting, he go put a smile on he face. He always smile, smiling and happy most of the time," his mother described, seeming to become emotional.
Homer is the brother of the late Ayana Findlay, who died in 2016, after valiantly battling with kidney disease.
Lee-Homer said that she went to the Criminal Investigations Department(CID) last Friday, and they told her that the coastguard had been sent out on a suspected drowning, but that they had not yet returned, and so they could not confirm beyond this. It was shortly after that her son's father told her that their son had been brought to the hospital in an ambulance.
When asked whether she thought more could have been done for her son, the mother answered, "honestly, because seeing that the coast guard was there, I mean they are supposed to be trained in these kinds of areas, you know?"
Seeing as the water was not rough, she stated, "You can't stop in the boat and say you ain seeing nothing in the water and ain goin in the water, if you hear somebody drowning?"
The coastguard gave no information when contacted on Wednesday, and instead, referred SEARCHLIGHT to the public relations department of the Royal St Vincent and the Grenadines Police Force.
However, up to press time, the public relations department said it had no information on the incident.