Posted on
MV Gem Star 2 begins ferry service today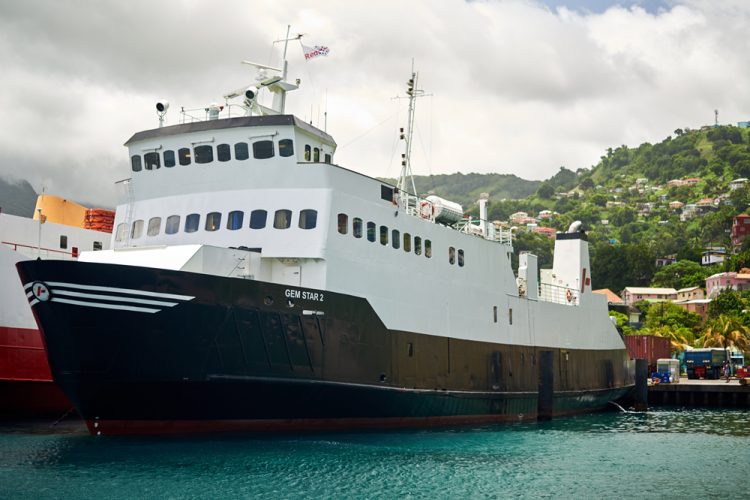 The MV Gem Star 2 will today, July 16, begin a twice-a-week ferry service between Kingstown and the Southern Grenadines, taking up where its predecessor, the MV Gem Star left off three months ago.
The MV Gem Star was abruptly rendered inoperable on April 8 when it was gutted by fire while docked in the Kingstown Harbour.
Last Thursday evening, a few hours after the MV Gem Star 2 made its maiden voyage into Port Kingstown, a welcome reception was held for the captain and crew who brought the vessel safely across the Atlantic from Spain, where it had been purchased a few weeks earlier by Augustine (Gussie) and Ann deRoche.
The reception on board the vessel was also attended by Prime Minister Dr Ralph Gonsalves, Director General of Finance and Planning Edmond Jackson, members of the business community, family members and close friends of the deRoches.
The Gem Star 2, which in its previous use was known as the the MV Christobel Colon de Ibiza has a length/beam of 56/12 meters and a gross tonnage of 1117. Larger than its predecessor, the Gem Star 2 also boasts a very large cargo hold and comfortable air conditioned indoor accommodation for passengers.
Built in 1977, the vessel underwent extensive refurbishment three years ago, the deRoches told SEARCHLIGHT. It has a new interior and can travel at an average speed of 9.9 knots and a maximum speed of 16.6 knots.
Gussie said the loss of the Gem Star was very hard for his family, but after taking everything into consideration, they decided to look for a new boat to continue to provide the service, which Prime Minister Dr Ralph Gonsalves told SEARCHLIGHT he considers essential.
However, finding a suitable vessel proved more difficult than had been anticipated by the deRoches, and also more costly.
"It was a very expensive venture," Gussie's wife Ann told SEARCHLIGHT, while declining to disclose how much was paid for the vessel.
She said that once the purchase had been finalized, a delivery company was contracted to bring the vessel safely to St Vincent. The six-man crew comprised three nationals of the Netherlands (including the captain), one Ghanaian, one Ukrainian, and one Lithuanian.
"We hope that the public is comfortable now that the service is back and that the vessel will be utilized and taken care of," Ann said.
Fares for transporting cargo will remain the same, but there have been small increases in the one-way fares to Mayreau and Union Island from St Vincent, which now stand at $60 and $70 respectively.
The fare from St Vincent to Canouan remains unchanged at $50.
The ferry will depart Kingstown every Tuesday and Friday at 11:30 am and stop at Canouan and Mayreau on its way south to its ultimate destination, Union Island. The ferry will leave Union Island at 7:30 am on Wednesdays and Saturdays, arriving at Kingstown at 2 pm.