Posted on
Shorty T shows she is queen of Junior Soca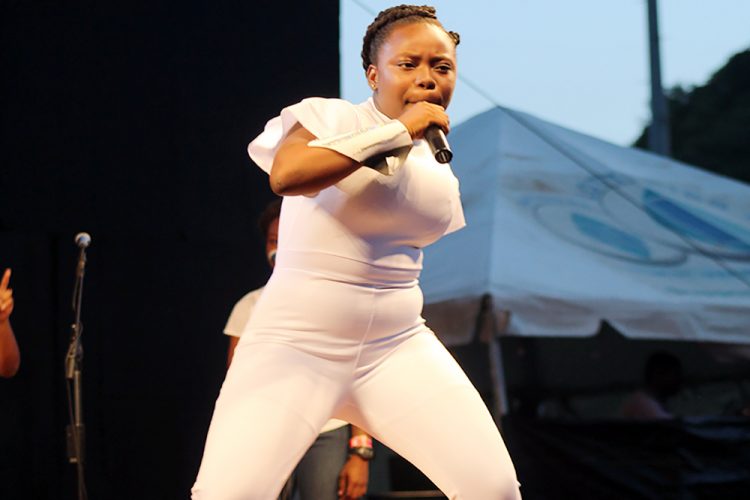 Teshika "Shorty T" Andrews, doing a song called "Peace," won the Junior Soca Monarch competition last Tuesday and the first thing she did was thank her supporters.
"I will like to thank all my fans because without them I would not have this energy and they make me, like, have that vibes that I should be having, so I would like to thank my fans, my father and everyone who supported me," the third form student of the Bishop's College Kingstown (BCK) told SEARCHLIGHT minutes after being crowned at Carnival City, Victoria Park.
To those present at the event, why she thanked her fans was obvious, as from the time she hit the stage, hundreds of people began cheering and waving white flags and peace signs.
The Redemption Sharpes resident, whose song was written by her father Garett "24" Andrews, said she felt elated to have reclaimed the crown, having won last year with "Cut Them Off", also written by her dad.
"This is just great," she said smiling.
There was a tie between Grennon 'Buffa G' Nero of the Sandy Bay Government School with "Kick Dust" and Kristiana 'Singing Kristy' Christopher of the Thomas Saunders Secondary School with a song called "Shell down", for second place.
Also taking part were Tafari Samuel of the Kingstown Preparatory School with "Wave It", Charricia 'Singing Cherry' Archibald of the Greiggs Government School with "No Ride", DeAndre 'D.G-Tal' Simmons of the St Martin's Secondary School with "Soca War", Ladonna 'Singing Lala' Free of the West St George Secondary School with "I am Ready" and Kristian 'Lil Kris' Christopher of the Layou Government School with "Hands up to Layou".