Posted on
Students urged to prepare for a hard road ahead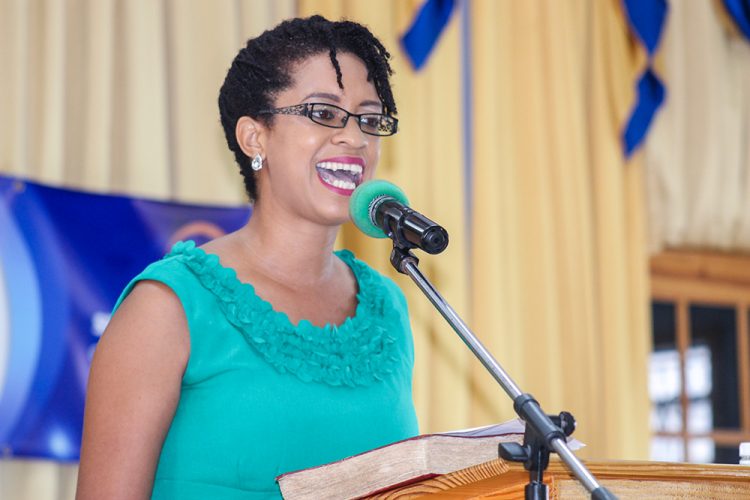 Students who will in September move on to secondary education have been warned that things will not always be easy.
"There will not always be mountain top experiences. During the next stage of your life as Secondary School students, while you continue to pursue excellence in your academics and extra-curricular activities, you may encounter obstacles, challenges, disappointments and heartaches," lawyer Mandela Campbell told the Kingstown Preparatory School's (KPS) 2019 graduating class.
Campbell was on Thursday, June 20 delivering the feature address at the school's graduation ceremony.
Her address, delivered under the theme, "Seventy Years and continuing, of nurturing and releasing peculiar gems to impact the world", asked students to put God first in everything they do.
"You may feel at some points like giving up as some of the tasks may seem too difficult for you to do. However, I am confident that through prayer, trusting in the Lord and perseverance you will overcome.
"Trust in the Lord with all of your heart and do not lean on you own understanding. In all of your ways acknowledge Him and He shall direct your path," Campbell told students.
She said she was privileged to be delivering the address as the school was celebrating its 70th anniversary and at a time when the school recorded 100 percent passes at the Caribbean Primary Exit Assessment (CPEA) and had five students in the top ten of the examinations.
Campbell told students that at times, their family situation may be less than ideal, and they may experience friends and family forsaking them, but they must always remember they are not alone.
"Christ is an ever-present help and guide. Call upon Him in moments of despair, fear and loneliness. Even if your mother or father forsake you, the Lord will be there for you," Campbell, a staunch Christian encouraged.
She said that one of the challenges that students may face in secondary school is in relation to self-esteem, but put God first also in this.
"We are aware of instances of bullying and as you go through puberty there may be instances when you question your self-worth.
"Please remember that God loves you and you are special. The Lord has a wonderful plan for each of your lives," Campbell told the graduating class.
The graduation ceremony also heard from principal at the KPS Susan Abraham who thanked parents and teachers for working together to help the students achieve the high level of success they did at CPEA 2019.
During the graduation, it was noted that 63 boys and 63 girls sat the 2019 CPEA and all 126 students passed, up from 2018, which saw three children failing to meet the required standard.
Seventy-nine of the KPS students were in the first 500 while 24 were in the first 100, five of the students were in the top five.
They top five are Seante Marshall, Lazaro Lynch, Taj Cain, Christian Joseph and Adriel Hazell. These students, and others, were recognized for their outstanding academic performances.