Posted on
Three Indian Nationals caught with fake passports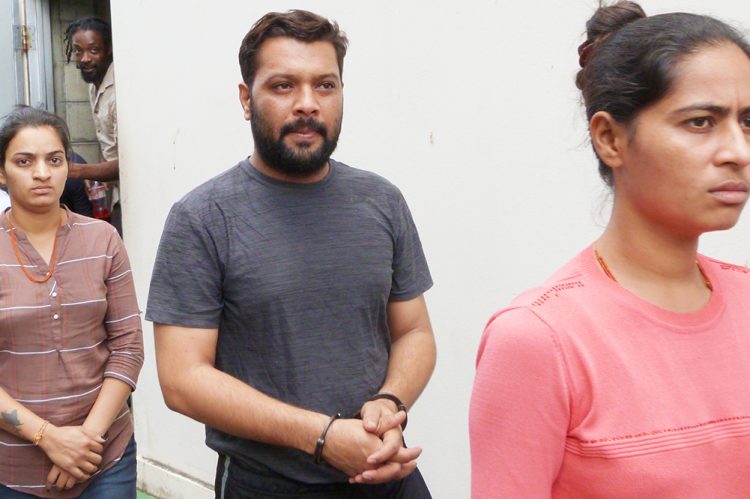 Three nationals of India, who travelled from their home country with their final destination being Canada were detained in the Caribbean with false passports after a warning was issued from the Canadian authorities.
Juliben Patel, 26 years; Sonalben Patel, 30 years; and Dipak Patel, 27 years, who are not related to each other although they carry the same surname, were taken to the Serious Offences Court in Kingstown last Thursday.
They were all charged, and admitted their guilt, that they did, in contravention of the Immigration Act, enter the state using a passport that they were not entitled to use.
This charge and any interaction between the court and the three defendants, two females and one male, had to be done through an interpreter as the trio indicated they did not speak any English.
Dipak and Sonalben had been denied entry in Barbados, and Juliben was detained at the Argyle International Airport, according to the facts written by the Immigration authorities.
The three had all travelled on their true passports from India, to Dubai, where they had stayed for around a week, before travelling to Trinidad, via Brazil and Panama.
When they were ready to depart Trinidad, they were met by an 'unknown' man outside the compound of the Piarco International Airport, who took their true Indian passports, and gave them new passports which bore others' names and Canadian visas.
Juliben received two such passports, which had two different pictures, neither of which were her, different dates of issue and expiry.
Juliben's correct identity was revealed after a search of her luggage resulted in the finding of her Identification Card hidden in sanitary napkins.
Dipak and Sonalben were told by this 'unknown' man that they would travel the rest of the way as a married couple, and the passports they were given bore the same surnames.
Juliben departed Trinidad for St Vincent and the Grenadines (SVG) on May 1, and Dipak and Sonalben followed on May 5. They were granted six months landing in SVG.
Dipak and Sonalben left the state for Barbados on May 7 but they were denied entry. Juliben also tried to leave on May 7, but she was held here in the process. This was due to intelligence received from the Canadian authorities, which "indicated that Indian nationals were attempting to enter Canada via the Caribbean using false documents."
There was no former criminal record before the court.
The Chief Magistrate, Rechanne Browne, asked them questions about their ages, employment and education. Dipak told her that he had a job in India. Juliben reached the Indian equivalent of form 4, Sonalben finished the equivalent of CXC (Caribbean Examination Council) exams, and Dipak finished college.
They asked that they be deported to India.
"I don't like offences of this nature. We are always happy to have persons visit and come through our shores but as their true selves," the chief magistrate told them via the interpreter. She said that they were making a mockery of the Immigration system, and that the offence was distaste-ful.
"I could understand, perhaps, the motive is to get a better life…to go to Canada and make something better of yourself, get an opportunity that you don't have in India, and I'm certain, I would like to believe this is the motivation, I could understand that," she stated.
Dipak told her that they were really facing some difficult problems in India, with regard to their families.
Senior Prosecutor Adolphus Delplesche rose to relay, "I understand from Immigration that there seems to be a ring. These were caught, but there seems to be a ring, much larger, and we
have to protect our borders."
In the end, the chief magistrate imposed the maximum fine of $2,500 on each of the defendants, to be paid forthwith. In default of payment, they would spend six months in prison.
Deportation orders were also given. Before the sentencing the two women could be seen wiping their eyes.
Browne told them that she has no difficulty with them coming here, and that everywhere there are financial and other problems, but getting themselves into fraud would only put them in more trouble.