Posted on
Viral video sparks investigation by Health Ministry (+Video)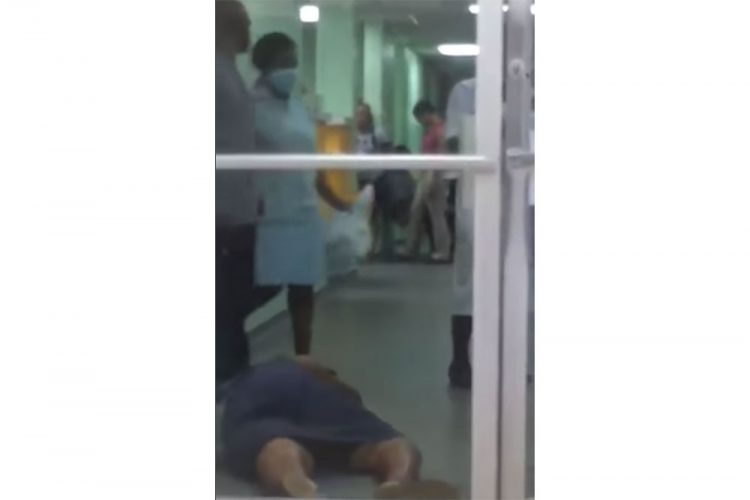 The nurse who did not respond appropriately to a woman lying on the floor at the Milton Cato Memorial Hospital (MCMH)has been referred to the Public Service Commission and the General Nursing Council for review.
The decision to refer the nurse, identified as a Ward Manager, comes one day after the Ministry of of Health, Wellness and the Environment said an investigation had been launched into what appeared to be the nonchalant attitude of workers to a woman lying on the floor of the Accident and Emergency Department of the MCMH.
The public became aware of what happened there after a video recording of the incident went viral on social media.
The 45 second video, recorded on May 14, shows a female lying on the floor of the emergency room while a senior nurse walks up and begins speaking to another woman.
Both women are standing over the female on the floor and the nurse makes no attempt to interact with incapacitated person.
Someone looking on comments, "They still have the lady lying there? Nobody checking she pulse nothing. And wah the big nurse, she is a sister, wah she."
A ward assistant then walks up to the woman, looking more worried than the senior nurse, to which the onlooker comments, "the ward assistant has to go to the woman, the least qualified person."
A second nurse comes into view with something resembling a sheet in her hands, but she does not touch the woman either. The recording does not show when the woman is eventually moved.
On Wednesday, May 15, the Ministry, in a release acknowledged the video and described its contents as "deeply disturbing".
"The Ministry expects a responsive and caring attitude to always be displayed to all persons who go to a health facility for services. The Ministry sincerely regrets this disturbing incident – it is entirely unacceptable," the release said.
According to the release, on Wednesday morning, Minister of Health Luke Browne and Permanent Secretary Cuthbert Knights discussed the contents of the video with relevant staff and requested urgent reports.
The reports will be forwarded to the Service Commissions Department and will form the basis of any further action, if necessary, the release said.
"A thorough investigation has been ordered to ascertain the full facts.
"Additionally, the Ministry takes this opportunity to report that the patient was treated and admitted to a ward at the hospital for continuing observation and care," the release stated.
It was also noted that the Ministry of Health, Wellness and the Environment has set high standards that must be upheld at all times.
On Thursday, May 16, another release from the Ministry said " the Ward Manager who did not respond appropriately to the situation of a female lying on the floor near the door at the Accident and Emergency Department of the Milton Cato Memorial Hospital (as depicted in a recent video that was circulated on social media) was referred to both the Public Service Commission Department and the General Nursing Council for their review."