Posted on
'Prep School' celebrates 70 years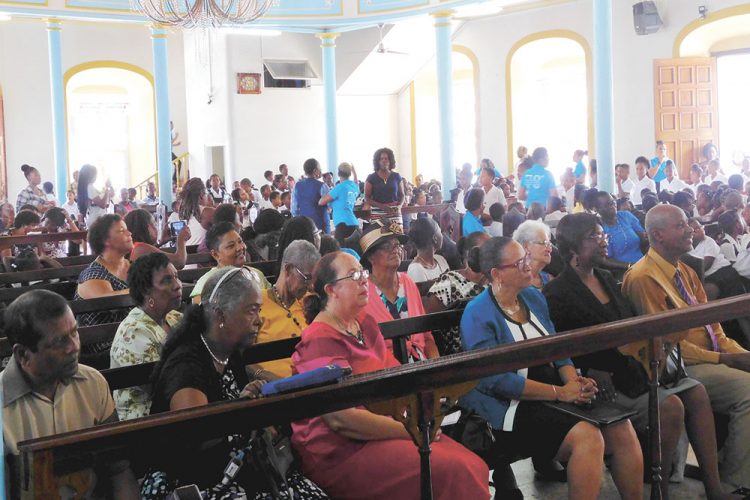 In its 70 years of existence, the Kingstown Preparatory School (KPS) has recorded top performances in the Common Entrance and Caribbean Primary Exit Assessment (CPEA) exams just over 90 per cent of the time.
The primary school held its 70th anniversary church service on Wednesday at the Methodist Church Hall, with many parents, teachers, past principals and present and past students attending to celebrate the milestone.
Principal Susan Abraham gave a brief history of the school and said that it has recorded 64 top performances in both Common Entrance and CPEA.
"It is an educational institution where the teachers and parents realise when we enter, we have to step up to maintain the high standards which were set before us. We will continue the journey of producing excellent and productive students in our society," she said.
Abraham said the co-educational school opened its doors on September 7, 1948 with 25 students, who paid $6 per term.
At the time, the school was a one-storey wooden building which was divided into two sections with an office for the headteacher.
The principal said that additional infrastructure was added between 1970 and 1980 to cater for the growing demand for places at the school.
The school had three teachers and its first headmistress was Kathleen Wilson.
"Today, the school houses approximately 900 students and 53 teachers. Students are exposed to a wider curriculum and extracurricular activities…" Abraham said. "Our mission focuses on holistically developing our students for the wider world with a sure and firm educational foundation. The students and teachers at KPS strive for excellence."
The 70th anniversary is being celebrated under the theme "Seventy years and continuing, of nurturing and releasing peculiar gems to impact the world."
The guest speaker at Wednesday's church service was Reverend Dr George Frederick.
Frederick utilised a mnemonic to help illustrate points of his speech.
Students held up letters of the word 'Seventy' as he spoke on the "Seed, Embolden, V-I Day, Eagle, Name of Renown, Thanks and Yeast".
"Parents you send your children to this institution, they are seeds and in the heart of that seed are dear little plants and when they are being nurtured, they become grown men and women to take their place in society," said Frederick, whose three daughters attended the KPS.
The pastor said that teachers embolden students when they come to the institution, transforming them into individuals who can assert themselves in any situation.
He said the school has established a victory over ignorance and illiteracy and has produced eagles who continue to soar.
He also encouraged students to be proud of their school, which has a name of renown through its academic record throughout the years.
And Frederick thanked teachers for the work that they have done and continue to do for their students.
"What you do, you cannot be paid for it. You are shaping minds, you are moulding minds, you are shaping the best of the nation, all those who are passing through your hands," he said.