Posted on
Five moms get Mother's Day treat from Searchlight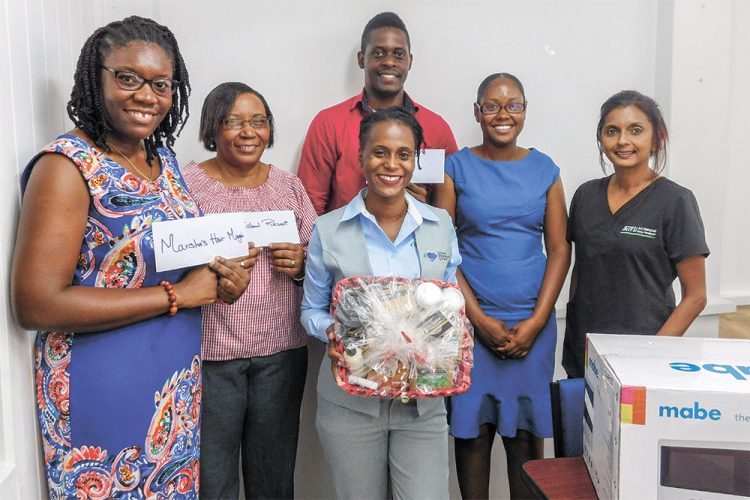 Five mothers received surprises of a lifetime this week when they discovered that they had won prizes in SEARCHLIGHT's "Celebrate MOM With Us" Mother's Day promotion.
The promotion, which ended on May 14, offered prizes from several local businesses to the mothers whose children entered the competition on their behalf.
The draw took place on Tuesday at the SEARCHLIGHT, with winners being picked from the box by Lisa Veira, a representative from Courts St Vincent, one of the promotion sponsors.
The first prize winner, Laverne Providence, said was surprised to receive a call saying that she had won a night for two at the Young Island Resort because she wasn't aware that her daughter had entered the competition.
"It came as a surprise, which I appreciate very much. It's a bit touching and I'm thankful for it. She's been a good daughter to me because we get along very well," Providence said.
The Redemption Sharpes resident, who was described by her daughter as a "hero" said that it is only fair that she shares the prize with her.
"Seeing that it's her gift to me, it's only fair that I take her and she is also a new mother which even adds more to it. A night out will be good for us to bond. I really appreciate this," the mother of two said.
Roivanique Adams also kept the competition a secret from her mother, who was also surprised to receive the call on Tuesday.
Adams said her mother Bridget Adams had asked why a portion of the SEARCHLIGHT newspaper was cut out and she denied knowing anything about it.
"I told her, maybe its an error from SEARCHLIGHT, I'm not sure why and she told me yesterday that somebody called her from SEARCHLIGHT and told her that she won the fourth prize I think, which is the hairstyle from Marsha's [Hair Magic]," she said.
Adams described her mother as a strong and supportive individual who is very "down to earth" and a wonderful person, especially to her two children.
Other entrants to the competition were sure to enter multiple times in the hopes of increasing their chances of winning one of the five prizes.
The second prize winner, Tamesha Gloster, a mother of one, said that she bought 12 newspapers so her daughter could enter.
She won a Mabe microwave from Courts St Vincent.
"I was kind of surprised yesterday when I got the call. I was very happy," Gloster said. "It feels good because I don't really win anything…thanks to Courts for cooperating along with SEARCHLIGHT and I hope that it will be something annually that you all continue."
Muwsa Muhammad also had multiple entries to the draw and was able to win the third prize, a spa treatment at The Spa Young Island, for his mother, Laurette Cambridge.
He described his mother as an "exceptional woman" who always tries her best for her children.
"This is basically me showing my appreciation and giving back to her for all that she has done for me and her other children. I'm the eldest son, so I usually take initiative to try and so something special for her, not only on mother's day since Mother's Day is everyday but since this opportunity arise, I said let me give it a try and I was successful," he said.
The fifth prize winner is Shanna Victor, a mother of a one-year-old daughter. And she won a gift basket from Jazzy's All Natural.
Victor said that she was home on vacation when a co-worker messaged her with the promotional flyer on Facebook.
She said that she was wowed by all of the prizes and decided to enter the competition, filling out the forms herself and putting her daughter's name in the slot.
"I still have one in my purse now that I was supposed to bring in. I won the fifth prize, which is the Jazzy's all natural [gift basket]. And I was like boy, I hope it have some turmeric thing inside dey," she told SEARCHLIGHT, with much excitement.
All five prize winners also received a free 6-month digital subscription from SEARCHLIGHT newspaper.
Jasmine Deane, the proprietor of Jazzy's All Naturals, was present to personally handover the gift basket to Victor on Wednesday.
She said she was happy to partner with SEARCHLIGHT to bless one mother with something special from Jazzy's All Naturals.
She said it is the first time that her five-year-old business has sponsored a promotion and she included all of her best-selling products in the gift basket.
La Tanya Grant, marketing officer at SEARCHLIGHT thanked all sponsors for coming on board and supporting the promotion. She encouraged members of the public to be on the look out for future promotions in the newspaper.