Posted on
RS Production donates $5000 to help the fight against childhood cancer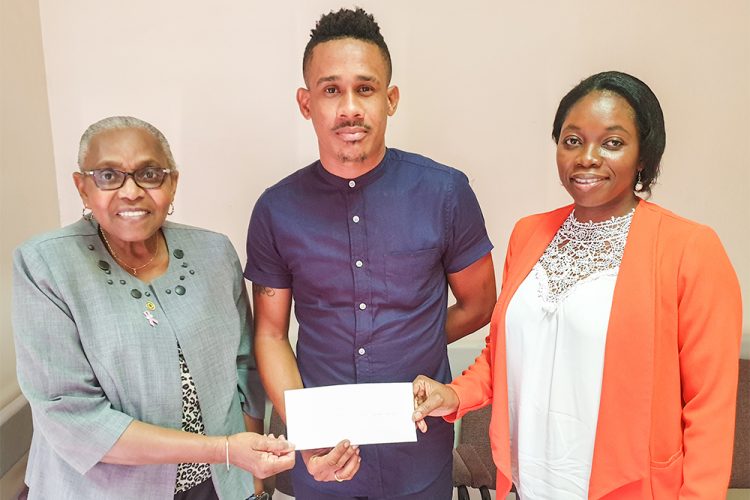 RS Productions has once again donated money to the SVG Medical Association to assist with their fight against childhood cancer.
RS Productions, headed by Rodney Small, made the donation last Thursday at the Caribbean Medical Imaging Center at Stoney Ground.
President of the SVG Medical Association Dr Rosalind Ambrose thanked Small for the donation which is part of the proceeds from his annual show Steel Expressions.
She said the donation of EC$5,000 helps with patients' medical expenses, as cancer treatment remains a very expensive undertaking.
She noted also that Small's contribution helps raise awareness about of childhood cancer which is commonly overshadowed by adult diseases.
"Chemotherapy agents remain prohibitive in cost making this a monumental challenge for families. In our program, the will assist with the cost of laboratory tests, imaging, air fare and Chemotherapy agents which are needed for patients affected by cancers.
"These conditions require clinical management for prolonged periods of time, which takes a significant financial and emotional toll on the patient and the families," said Ambrose.
Commenting, Small said that this is the third year that RS Productions has donated to the fight against childhood cancer.
He said he chose to partner with the SVG Medical Association because he wanted to work with a structured organisation that deals with children living with cancer.
"A few years ago I was doing an investigation and I wanted to assist something dealing with children and I found out there were a lot of children living with cancer and it is costly to treat," said Small, who added that his organization has also donated to the School for Child with Special Needs and to the fight against HIV/AIDS in SVG.