Posted on
Geothermal energy could bring tremendous wealth to SVG – expert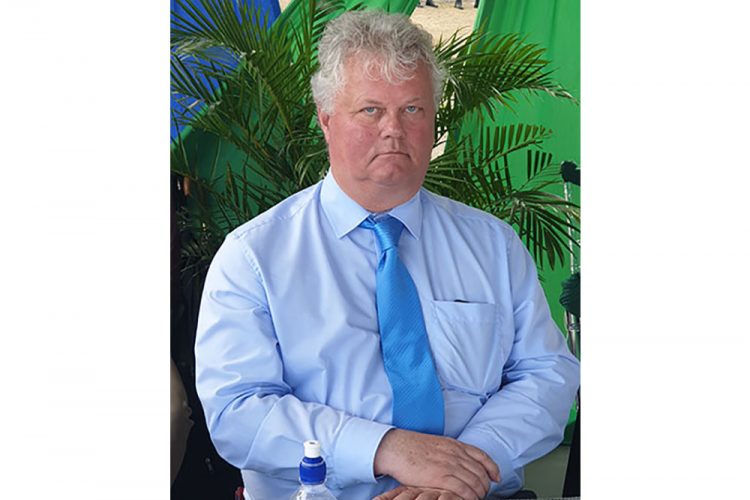 by Lyf Compton
Geothermal energy has helped bring tremendous wealth to Iceland and can play a huge role in the economic development of St Vincent and the Grenadines (SVG).
Chief executive officer (CEO) of Reykjavik Geothermal, Gudmundur Thoroddson, made this point on Monday while speaking at Lot 14, Bamboo Range.

Thoroddson, an Icelander, spoke about the benefits of geothermal energy while standing in the area where this country has started exploratory drilling under the direction of the St Vincent Geothermal Company Limited, which is owned by the Icelandic company Reykjavik Geothermal and the Government of St Vincent and the Grenadines.
"Iceland is a small island with a small population like St Vincent and the Grenadines," Thoroddson told the hundreds of Vincentians gathered at the venue.
Iceland's population, at 340,566, is double that of SVG, while the country has a Gross Domestic Product (GDP) of US$23.91 billion, compared with SVG's US$789.6 million.
Thoroddson said that when he was born 60 years ago, his country was still categorized as a developing country having received independence from Denmark in 1944.
He said at that point, they were considered the poorest country in Europe, but that changed when they decided to develop their own power sources.
"Geothermal and hydro…that has led to Iceland being 100 per cent renewable in electricity generation and heating of houses and it has also brought enormous wealth," Thoroddson said, extolling the benefits of geothermal energy.
The CEO stressed that geothermal energy makes a huge difference when compared with paying for fossil fuel to produce energy because of the volatility of oil prices.
"This independence in energy has brought us to being one of the richest countries per capita in the world…this can be a journey to prosperity and well-being. A clever way of developing the resources of the country," Thoroddson stated while adding that Bamboo Range will see the drilling of three geothermal wells and one reinjection well.
He said that the drilling plant, called Odinn, may not look like much, but it is capable of drilling over 2,500 metres and the project at the drill site will see 600 pounds of cement (enough to build 40 villas) being used, while over 3,000 cubic metres of material will be removed to make the wells.
But while Thoroddson spoke of the positive effects of geothermal energy on the economy, he failed to mention the challenges which such activity have brought to his country, including reports of sulphur pollution and earthquakes close to geothermal sites.
In SVG, persons on social media have voiced concerns about the geothermal project interfering with La Soufriere volcano.
One Facebook user said, "dey up dey poking Soufriere suppose Soufriere poke back?"
SEARCHLIGHT reached out to a regional geologist who said "It is not unusual for there to be seismic activity in areas where geothermal energy is being exploited."
The experienced professional explained that the small man-made earthquakes, not usually large enough to be felt, are caused by the drilling, removal of large volumes of material from the earth; and the removal and re-injection of fluids from the earth.
"If you remove earth, fluids, you are changing the tectonics (structure) of the local environment, which can cause earthquakes," the geologist explained.
These earthquakes, the professional said, are not related to the volcano, and while some earthquakes may be large enough to be felt, they usually do not cause damage to structures.
The geologist noted that this is why public education and seismic monitoring systems are key components of geothermal energy projects.
Prime Minister Dr Ralph Gonsalves says we have nothing to fear.
He said when the question of geothermal energy came up, he asked Reykjavik about the possibility of causing an eruption because of the exploration.
"And they were amused, but I know my country very well…don't believe anybody with their hocus pocus, that kinda talk is obeah talk and I hope that detractors to this project don't get involved in any obeah talk," said Gonsalves on Monday.