Posted on
Former Parliamentarian Laid to rest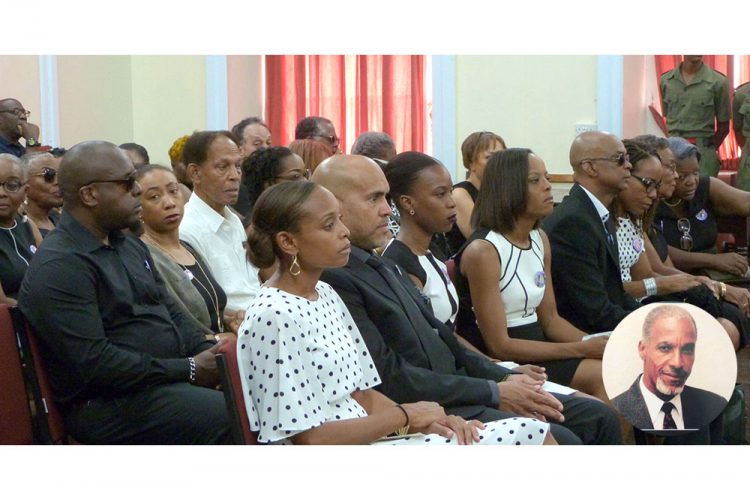 by Katherine Renton
"To the people of St Vincent and the Grenadines, and especially the people of West Kingstown, my father loved you."
There was nothing said within the walls of the St George's Cathedral last Friday, at the funeral service for former parliamentary representative Alexander John Clark Horne, that was more emphatic or full of emotion than this statement made by his second daughter, Oneka Horne-Tolentino.
She and her sisters, Zhinga Horne-Edwards and Kande Horne-Kara, delivered their father's eulogy to the packed church and, via screens, to the crowds outside as well.
Horne had been accorded an official funeral: the flag of St Vincent and the Grenadines was draped over his casket, viewing of his body took place at the House of Assembly; he lay at the New Democratic Party (NDP) headquarters; all flags were flown at half mast; and he was lowered to his final resting place after a gun salute.
However, his funeral could also be said to be a State funeral in the sense that, much of the State seemed to be present. There was such a crowd at the St George's Cathedral, which had temporarily been restored to its full glory for the occasion, that vendors moved to line up outside of the church gates.
There was a sizeable throng even at the public viewing at the House of Assembly, and the stream was constant. The police officers would only let a certain number of people upstairs at a time, and in the busyness, the voices of the people downstairs managed to travel all the way upstairs. Therefore, the dead silence and grief which filled the room where Horne lay was somewhat interrupted by the chatter and eagerness downstairs.
John Horne the father, the constituency representative, the singer, the actor, the athlete, the mas man, the friend were all remembered throughout the day, and in the tributes and eulogy at the funeral service.
His daughters spoke about sharing their father with the constituents of West Kingstown, and how their father treated the constituents just the same as his family.
Oneka remembered that every day would hold 6 am phone calls for her father, which he would always answer.
At first it was not Horne's choice to enter politics, she informed, but it was the people of West Kingstown who petitioned for his candidacy.
"And with that single event you entered that boy from the bay side's heart, and you never left. To the people of St Vincent and the Grenadines, and especially the people of West Kingstown, my father loved you. After he had you, he had a new purpose, a new mission, a new direction, a new passion. He was absolutely devoted to you," she declared.
She had learned that there were many whose one call to her father changed their lives completely, she said.
Kande, the fourth daughter also referred to her father's passion for the people in his constituency.
"How blessed are you to have been a constituent of West Kingstown between 1984 and 2001?," she asked, continuing that they, "had a representative who truly cared about your individual and collective needs."
Horne's daughters were first hand witnesses to his generosity and they gave testimony to this in the eulogy.
"Even if you didn't know him. How blessed are you to have been a stranger walking on a hot day, a rainy day, or any day for that matter as John Horne drove by?… because you are sure to be given a
ride. It didn't matter if you were headed in the opposite direction," Kande stated.
Her sister Oneka told her story of walking with her father countless times through town until "the paper bills in his pocket became coins, and the coins became pockets turned inside out with nothing to give but lint."
Horne's third daughter Zhinga also told stories of her father's generosity during his life, but stories that had been relayed to her by others. One was of her father helping a man who had just come out of prison and wanted to rebuild his life. This man said that Horne was the only one who helped him, who formulated a plan with him, which saw him becoming a successful entrepreneur.
Zinzi, Horne's fifth daughter also gave a tribute, while his first daughter Andrea Warner, read a lesson.
The Leader of the Opposition, Dr Godwin Friday praised Horne extensively, saying that he was proof that you could be a good man and be successful in politics. "He was a good guy, the same guy, in and out of politics," he commented during his tribute.
Horne was also remembered as a musical man. The Starlift Steel Orchestra lifted up the tunes of "Halleluiah" and the New Kingstown Chorale also did several hymns during tribute. After Horne was laid to rest, Starlift played a variety of hymns on a truck leading from the churchyard.
The service was full of emotional ups and downs. Horne's family and persons in the church shed tears or came close to shedding tears at times, but there was also intermittent laughter at fond memories.
Adding to the laughter was his former classmate and lifelong friend Bassy Alexander who, in his tribute, recalled his classmate in the old stories of school days, and brought back Horne's special phrase "Horn fuh dem."
Tributes were also given by Maia Tolentino, Horne's granddaughter; Patrick Horne, his nephew; Patches Knights, his friend; Arnhim Eustace, former opposition leader; Cantemus; Suri Tolentino & Jada Kara, his grandchildren; Erlene Williams-King, his sister-in-law; Leroy Providence, his cousin; and the New Kingstown Chorale.
The Chief Celebrant at the funeral mass was The Right Reverend C. Leopold Friday, Bishop of the Windward Islands, while the Homily was delivered by The Very Reverend O. Samuel Nichols.
Horne was buried on the west side of the church in the direction of his former constituency, and next to his grandmother, his "beloved Maria."
Darkness began to fall as the casket was lowered and as he was "crowned" with flowers thrown by his grandchildren, daughters, nephews and family, a woman in the crowd repeated that Horne was the "best politician ever".