Posted on
Unity Labour Party celebrates in style 18 years of Government (+ Video)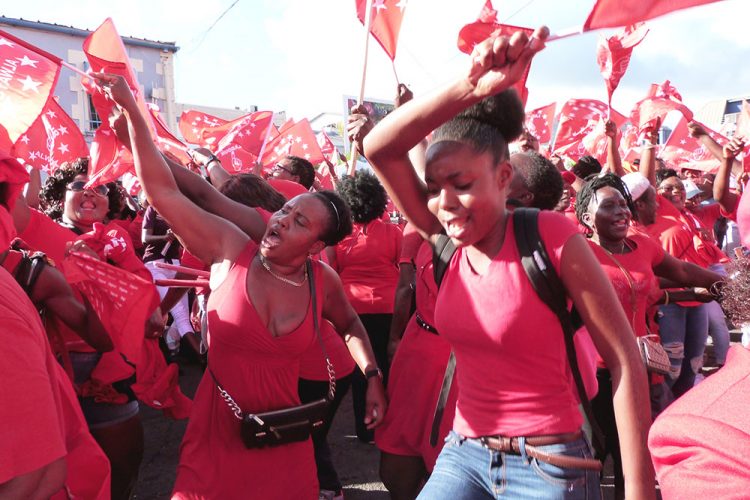 PRIME MINISTER Dr Ralph Gonsalves and his wife Eloise, led hundreds of colourful and excited red clad, flag waving Unity Labour Party (ULP) supporters through the streets of Kingstown in a celebration march yesterday.
The crowd, which started at dozens but expanded to hundreds, began its march at the ULP headquarters at Richmond Hill. As they moved along, they shouted support and pledged their continued allegiance to their party, which was celebrating the 18th anniversary of their first election victory in March 2001.
The jubilation was two-fold as the march, followed by a rally at Heritage Square, also focused on the recent court ruling which announced that ULP candidates in the 2015 general elections Montgomery Daniel and Sir Louis Straker were validly returned.
Just a few hours prior to the march, the Opposition Leader Dr Godwin Friday announced that the New Democratic Party(NDP) would be appealing the decision. Respondent Daniel himself could be spotted in the mass of marching people, along with a number of other ministers of Government and parliamentary representatives, including Camillo Gonsalves and his wife Karen, St Clair 'Jimmy' Prince, Saboto Caesar and Frederick Stephenson, to name a few.
After setting off from the headquarters, the throng headed down James Street, then along Upper Bay street, right down to Higginson Street, and then back up through Grenville and Halifax Street.
After reaching Heritage Square, campaign songs were blasted through the speakers for the dancing supporters, before the
first in a series of speakers took the microphone.