Posted on
Rose Place residents express concerns about relocation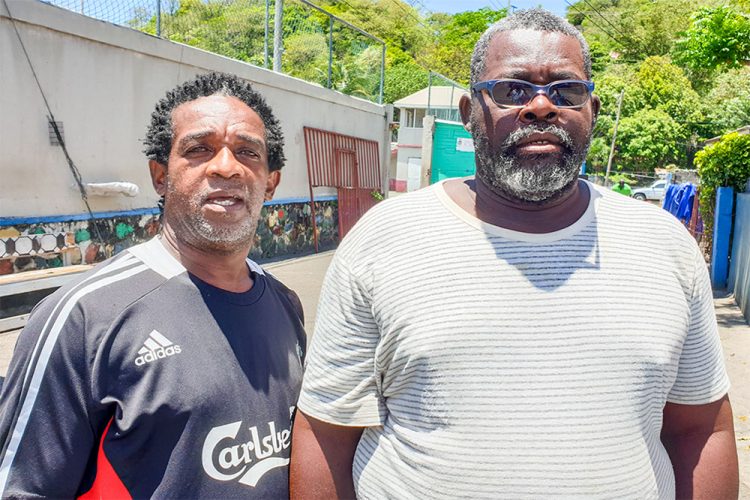 THE US$145 MILLION Port Modernization Project, which is expected to displace about 200 residents of Rose Place/Bottom Town is creating mixed feelings among those who will be affected.
The government has already secured US$40 million from the British Government to construct the Port, and plans are said to be progressing smoothly. But residents of the area, including several fisherfolk, say they have misgivings about the project.
SEARCHLIGHT visited the vibrant West Kingstown fishing community on Wednesday, and while most have already accepted that they will be relocated once the project gets underway, they say they aren't happy about it.
Born and raised in Rose Place, Captain Mark Dennie said that officials associated with the project came to the area and took several measurements and announced that persons will be relocated.
He said that while port development is a good thing, when moving a community, especially a fishing village, a proper alternative site must be top priority.
"Moving residents is one thing, but what are you going to do with the fisherfolk? I have been fishing for 40 years, so my concern is where you going to put the fishing community.
Government has announced plans to relocate residents to Lowmans Leeward later this year, and for the fishing boats to be kept in Arnos Vale, all at a proposed cost of $4.5 million.
But Dennie says who goes where can be problematic, especially when it comes to storing boats.
"If they moving the fishermen to Arnos Vale, I want to be in Arnos Vale where I can see and protect my boat. People will steal our boats because I live in Great House and my boat in Arnos Vale? I think they need to do a better study on where they will be putting the fishing community," Dennie said.
He suggested that the authorities look into the possibility of building a facility to store the boats at Edinboro.
Dennie also expressed concern about the large number of people who currently reside on the beach at Rose Place.
Another fisherman, Captain Bernard Dublin who was born in Rose Place and has been fishing for over 20 years, does not like the idea of a new port in his community.
"I ain't feel good at all. They say they going to carry the boats Arnos Vale, but sometimes we throw seine Arnos Vale and when we go back the next day, we fish thief out the seine much less to carrying out boat out there.
"Engine go get thief, boat go get thief. They don't have no watchman down there and down there is a lot of drug addicts and it very rough for fisherman to take all $30,000, $40,000 [worth of equipment] and carry it behind back where no one is there to secure your property," argued Dublin.
He said that while he understands that they can't stop the development, that doesn't mean they have to like it.
A man who operates a vending business in the area and who preferred not to give his name, wasn't shy about giving his take on the issue. He said that he sees port development in the area as something sinister.
"This is a thing that goes on worldwide…areas that you can't win in, you displace people from an area that you can't win in…the government in power for 18 years and can't win the three town seats, so if you can displace people from these areas…that is the plan, less votes in West Kingstown," said the man.
He said that the Unity Labour Party (ULP) administration should look carefully into where they have plans to put a port and they might see big issues with the positioning, one issue being the close proximity of the Milton Cato Memorial Hospital (MCMH) to the project.
"This is not a good place for an industrial site because of the location of the hospital a few metres away. We going to have movement of cranes and noise, more movement than what goes on close to the hospital currently.
"I see it as just a displacement of people for political reasons," said the vendor.
Retiree and part time fisherman Lloyd Baptiste said that a few weeks ago, he noticed persons in the area asking questions, but he is not exactly sure what is going on.
"If I have to move, I will move but I prefer the Windward end than Leeward. I just waiting to hear what exactly will happen. I haven't really heard anything official yet," said Baptiste.
A shopkeeper in the area lamented that people who have lived in the area all their lives will be displaced.
"Some people live here for years and they will not feel pleased about being displaced. If you have to take your business to Arnos Vale or Lowmans, it will fail because you have already built up a clientele and they not coming to them places with you and those places have their businesses already," said the businessman.
He said that more discussions need to be had with persons in the area on an official level and opined also that maybe the government could have looked into refurbishing the current port instead of building a new one.
However, Marlon "Bully" Llewellyn, a community representative on Port Modernisation Project Steering Committee, said on Wednesday that he feels the project will bring much needed development to the area.
"To me, I feel this will be a very good move for the community. A lot of people will get displaced and so on, but look on the brighter side, some of these people who living on the beach, the government is going to relocate them and they are going to get a home for themselves, they will be living more comfortable," said Llewellyn.
He added, "this port will also increase business in the area, Rose Place will develop. It will get a facelift, youths will get employment because during the construction phase that will be needed. Even when the port is built people will get work."
Llewellyn said also that he believes the new port will push up property values.
In his 2019 Budget address, Minister of Finance Camillo Gonsalves said the port project is part of the government's quest to transform the Vincentian economy.
He said the new port will replace the existing cargo port in Kingstown and the rapidly deteriorating Campden Park port.
He noted also that the port relocation will also free up existing cargo port facilities to allow expanded berthing options for our fast-growing cruise tourism sector.
"Already, with our single cruise ship berth occupied almost daily by a large ship during the season, our limited infrastructure is a constraint on further growth and development.
The new cargo and ferry port will include facilities for international, regional and intra-island travel throughout the Grenadines. The project also includes costs related to improving the road network and traffic flow in and out of western Kingstown," Gonsalves said in his address.
He stated that this year, as a necessary precursor to physical works, the Government will facilitate the relocation of the affected residents and fisherfolk of Rose Place.
In all, $9.5 million will be spent in 2019 on the relocation of residents and the further elaboration of the requisite designs and engineering studies.
"As usual, the Government will consult extensively with the local community, while demonstrating its customary respect for citizens and adherence to internationally-accepted social safeguard standards in carrying out this complex relocation process.
In addition to its obvious economic and developmental benefits, the new cargo port will act as a catalyst for urban renewal in Rose Place and its surroundings," Gonsalves said in his Budget address.