Posted on
SVG Under-17s impress at CONCACAF qualifiers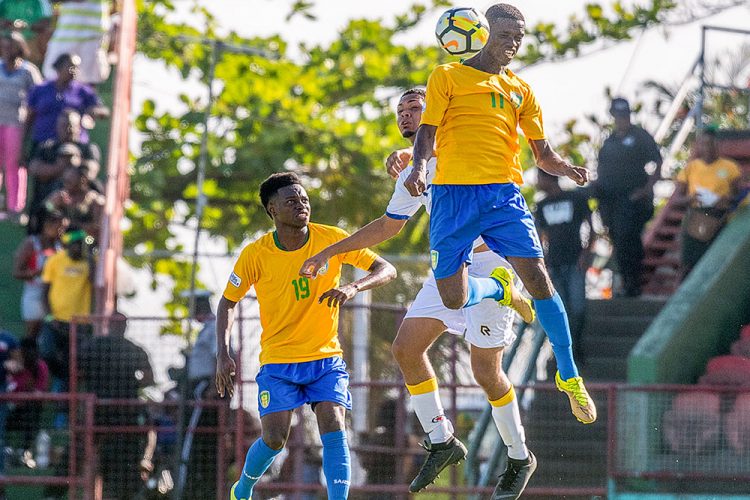 St Vincent and the Grenadines returned one of this country's best outings at an age group football tournament, when the under-17 male unit finished CONCACAF qualifiers campaign with two wins, one draw and one loss.
Lodged in Group A of the qualifiers played at the IMG Academy in Bradenton, Florida, USA, the Vincentians finished third among the five teams.
St Vincent and the Grenadines, though, were the lone team to defeat eventual qualifier from the group – Nicaragua, and the only outfit to score against the Nicaraguans.
Additionally, St Vincent and the Grenadines were the only outfit in the group, to score in each of their four matches.
The Vincentians' sojourn got off to a good start, when Javed Hunte's strike helped them get over the US Virgin Islands, one- nil, in their opening fixture.
Then Jahiem Pompey netted twice, as St Vincent and the Grenadines downed Nicaragua 2-0.
Pompey scored in the 37th minute and added his second in the 54th minute, with a penalty.
SVG's hiccup came when they were beaten 2-1 by Grenada last Wednesday.
Javed Hunte had netted in the 32nd minute, but Aquil Lawlite answered in the 47th minute, and Benjamin Etienne struck the winner in the 62nd minute, as the Vincentians suffered their lone loss.
And, St Vincent and the Grenadines closed off their group play with a 1-1 tie with the Cayman Islands.
Pompey had netted a penalty in the 86th minute, as St Vincent and the Grenadines had to claw back to earn the point.
Nicaragua recovered from their 2-0 defeat to St Vincent and the Grenadines, to beat US Virgin Islands 5-0, Grenada 4-0, and the Cayman Islands, 3-0.
Nicaragua therefore advanced to the next phase of the tournament.