Posted on
SVG brushes up for visit of Royal Highnesses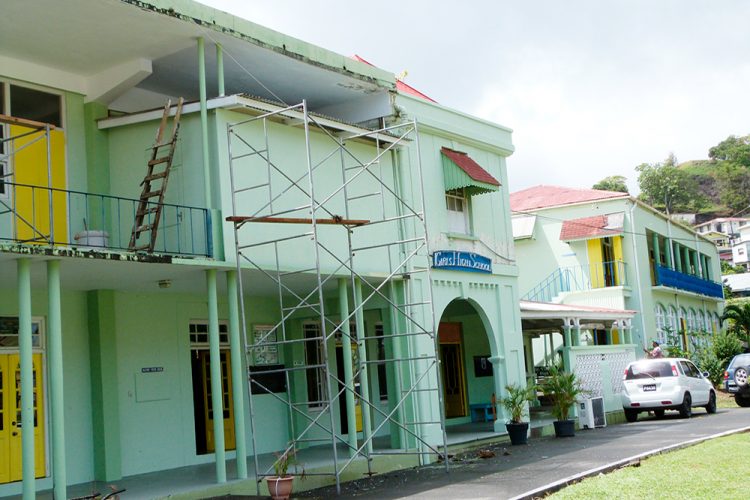 Despite intermittent rain yesterday, final preparations were feverishly being made to several locations around the country in anticipation of the visit of Their Royal Highnesses, Prince Charles and Camilla, the Duchess of Cornwall.
The royal couple is expected to arrive in St Vincent and the Grenadines tomorrow, as part of a wider Commonwealth Country tour to the Caribbean, spanning March 17 to March 29.
The Girls' High School and the Prime Minister's residence are among locations to be visited by the Royal Highnesses and as a result, these locations are having renovation work done in preparation for the visit.
"It's just a little tidying up, we did a little painting. All the things that you would do in your house if you had a sudden visitor like this…all the little straightening up, tidying up, all the things you didn't do, the painting you forgot to hang up…" Eloise Gonsalves, the Prime Minister's wife said yesterday.
The all girls' secondary school, which is being visited by The Duchess of Cornwall, is in the process of receiving a fresh coat of paint among other restorative work.
When the Royal Highnesses arrive tomorrow, a welcoming ceremony will be held on the tarmac of the Argyle International Airport, and will be followed by a short greeting session with school children and members of the public.
The Prince of Wales is expected to visit the Mangroves at Brighton and then the SVG Coast Guard, where he will proceed by sea to the Kingstown Ferry Berth and then to the Cenotaph for a wreath laying ceremony.
The Duchess of Cornwall will visit the St Vincent and the Grenadines Community College where a small exhibition from female entrepreneurs will be staged.
And following her engagement at the College, she will proceed to the St Vincent Girls' High School to meet with students there.
She will also be present at the wreath laying ceremony at the Cenotaph.
There will also be a tree planting ceremony at the Botanic Gardens and the final activity is a reception and investiture ceremony at the Prime Minister's Residence, where several persons who were named on the Queens New Year's honours list will receive their awards.
Dr Cecil Cyrus, one of the honourees will also be knighted at this ceremony.
The Royal Highnesses visited St Lucia yesterday.
The other islands to be visited are Barbados, St Kitts and Nevis, Grenada, Cuba and the Cayman Islands.