Posted on
Vincy Heat brings joy to fans at Victoria Park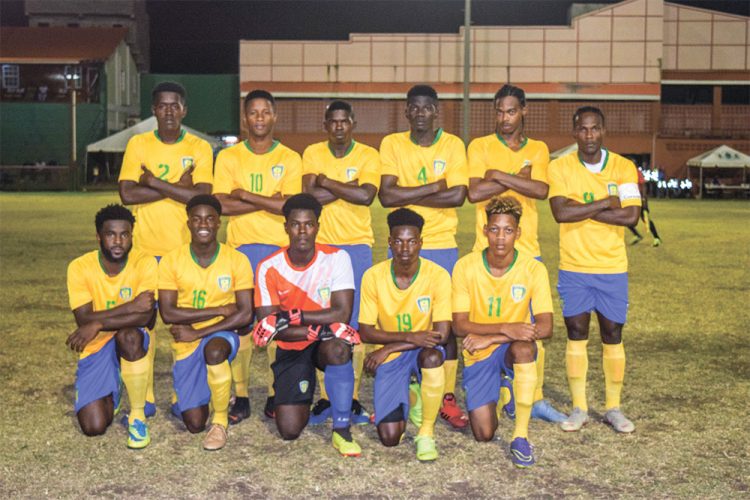 by Rohan Thomas
Win, lose or draw in their match tonight against Grenada, Vincy Heat are the new champions of the WIFA senior men's football tournament.
Buoyed by a large crowd, which included a rhythm section, the Vincentians kept their winning streak intact Wednesday night at the Victoria Park, when they beat Dominica 2-1 in dramatic fashion.
An injury time goal registered by Chavel Cunningham meant that the host stayed as the lone unbeaten team in the Windward Islands Football Association (WIFA) tournament.
Cunningham made good of a pass from his captain Cornelius Stewart in the 93rd minute, as the match was heading for a 1-1 draw.
He had put the Vincentians ahead on the stroke of half time.
After dribbling his way past a Dominican defender, Cunningham unleashed a powerful right foot shot that left goalkeeper Glenson Prince, only to retrieve from the back of the net.
But Briel Thomas equalized for Dominica in the 64th minute, before Cunningham gave the large crowd at the venue a joyous end to the hard fought match.
St Vincent and the Grenadines were upbeat after coming off from two wins.
First up, the Vincentians beat Barbados, 2-0, with Stewart and Cunningham, the goal-scorers.
Then Kishawn Johnny and Stewart provided the goals in the 2-1 win over St Lucia, on Saturday.  Malik St Prix netted for St Lucia.
Other results
In the opening match in the tournament on Thursday, Grenada beat St Lucia 1-0, with Chad Mark, the scorer.
Grenada, though, was beaten by Dominica one-nil, as Anfernee Fredrick provided the winner.
In Monday night's double header, Dominica and St Lucia drew 1-1. Aaron Richard scored for St Lucia in the 33rd minute and Travist Joseph provided the equalizer in the 36th minute.
Also on Monday, Barbados and Grenada drew nil- nil.
However, Grenada were deemed to have fielded an ineligible player, thus the match was awarded to Barbados.
And, Mario Harte in the first minute and Rahiem Sargeant in the 46th minute, gave Barbados a two-nil victory over St Lucia in Wednesday's other fixture.
The tournament concludes tomorrow, with Barbados facing Dominica from 5 p.m., to be followed by St Vincent and the Grenadines taking on Grenada.
This, against the knowledge that the host has already dethroned Grenada as champions.
St Vincent and the Grenadines are on 9 points from three matches, with Barbados on 6 points, also from three matches.
The worst case scenario in the final set of matches, should the host lose to Grenada and Barbados defeat Dominica, both St Vincent and the Grenadines will finish on 9 points.
However, with St Vincent and the Grenadines already defeating Barbados in their head to head clash, the 2019 WIFA senior men's football title is firmly in the grasp of the Vincentians.
Tonight's formalities were pre-empted by last Wednesday's wild celebrations by players and supporters, soca monarch style.