Posted on
Skinny's 'Famalay' grabs Road March crown in Trinidad and Tobago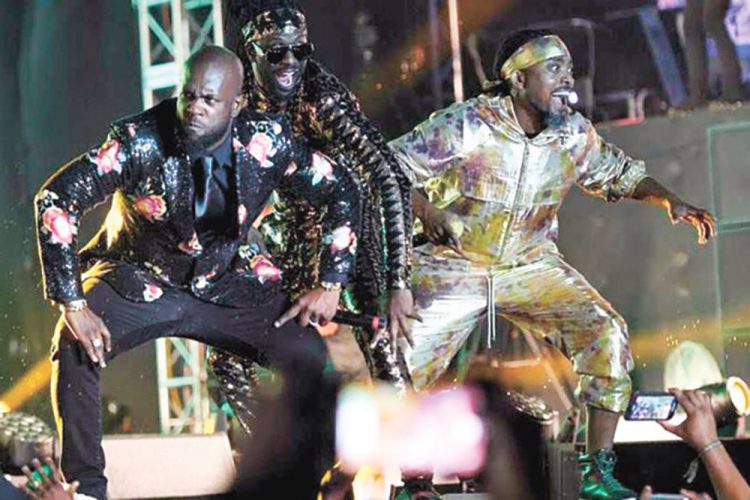 The song 'Famalay' continues to break new ground and on Wednesday, the mega Soca hit, which was written by Vincentian Gamal 'Skinny Fabulous' Doyle, was declared the official road march of Trinidad and Tobago's 2019 Carnival celebrations.
When it was first released, 'Famalay', which was performed by the trio of Skinny, Machel Montano and Bunji Garlin, moved reggae sensation Bob Marley from the top of the iTunes most downloaded reggae songs, and last Tuesday, it set another record.
The road march win gives Skinny his first road march title in T&T and makes it the first time a non-national has received this prestigious award. It also gave Bunji Garlin his first road march win and Machel his 10th.
This win ties Machel with Trinidadian Superblue.
On Wednesday evening, SEARCHLIGHT reached out to Skinny who was in a jovial mood and heading to a party to celebrate his win. He said he heard that Famalay had won at around 11 am on Wednesday, and his emotions at the time were hard to describe.
"I felt relieved. It is hard to sum up the emotions. I was not expecting to win, I was hoping because I know the race was tight in terms of public opinion.
"I know persons wanted the other competitor to win, so on that energy, I always knew and felt it was going to be close. I think our song came with a particular energy that was consistent to crossing the stage," Skinny said.
The Trinbago Unified Calypsonians' Organisation (TUCO) said Famalay was played 346 times while Kees Dieffenthaller's 'Savannah Grass' was played 207 times on Carnival Tuesday.
Judging points were placed in Port of Spain, San Fernando and Tobago and Skinny said that he, like many other persons was monitoring what was going on at the main point in Port of Spain.
"You only see the Savanah stage and some other judging points on the street, so it was hard to tell what was happening so that is why we were in the dark. We had a feeling, but it was hard to tell what was leading," Skinny said.
He noted that he has a few shows left to do in T&T and his performance calendar for the rest of the year is full.
"I am really taking the vibe and energy across the region and the world and the next move is Vincy Mas 2019," stated the former soca monarch, who added that it is going to be a logistical challenge to organise performances of Famalay with Machel and Bunji as they all have tight schedules.
He noted also that he does not know what the prize for taking the road march title is and he is more interested in the historical significance.
In a post on his Facebook page on Wednesday, Skinny thanked Machel and Bunji for their camaraderie and support, and his ground team for keeping him motivated. He also thanked his fans at home and in T&T.
"Biggest thanks to the fans who made this song the biggest song of the year. A massive thanks to my Vincy Famalay back home for the love and support. We have been contributing to the overall musical platform in the Caribbean for years and I am very happy to have been part of a project that ultimately shows that. Trinidad I thank you for this Road March title, but I thank you more simply for the love and warm reception."
The song, 'Famalay', was released on January 4, 2019. The beat/riddim was developed by Dominican music producer Krishna "Dada" Lawrence, who sent it to Soca disc jockey "International DJ Stephen". The disc jockey passed it to Skinny after which Skinny wrote the song and threw the idea to Machel and Bunji. The song was mastered by Vincentian Parry Jack.