Posted on
SVG kicks off WIFA tournament with two exciting wins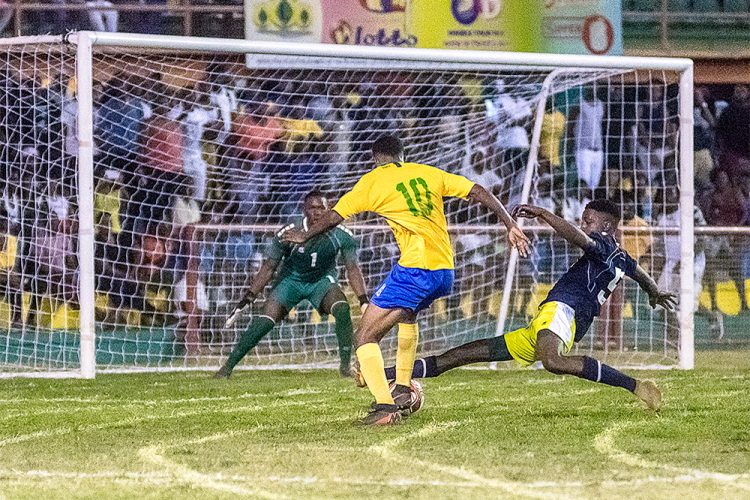 St Vincent and the Grenadines' Vincy Heat has made it two wins from two matches in the 2019 Windward Islands Football Association (WIFA) senior men's football tournament.
When the tournament got going last Thursday at the Victoria Park, the new look St Vincent and the Grenadines team, under head coach Kendale Mercury, gave the spectators much to shout about, ending with a two-nil win over Barbados.
A 32nd minute penalty converted by captain Cornelius Stewart and an 87th minute strike by Chavel Cunningham, gave the host the full points.
It was Vincy Heat's first win in a competitive match since beating Aruba at the Arnos Vale Playing Field in August 2015, in the 2018 FIFA World Cup Qualifiers.
Then on Saturday night, in front a bumper crowd, the Vincentians had to battle back from a goal down, to beat St Lucia, 2-1, in a bruising encounter.
Malik St Prix put the visitors in front in the 49th minute.
But a Kishawn Johnny free kick in the 72nd minute brought parity to the match.
Stewart added his second goal for the tournament, when he bundled the ball over the line in the 79th minute, following a goal mouth scramble.
It meant that St Lucia was conceding their second loss.
In the opening match of the tournament on Thursday, St Lucia was beaten by Grenada 1-0.
A Chad Mark goal in the 17th minute opened the defending champions' account.
However, Grenada was to suffer a setback, as they lost by the same margin to Dominica on Saturday.
Anfernee Frederick scored the winning goal in the 43rd minute, as Dominica got three points.
Day three of the tournament was set for last evening, with St Lucia taking on Dominica, and Grenada was scheduled to play Barbados.
Wednesday's matches pit St Lucia against Barbados and host St Vincent and the Grenadines takes on Dominica.
The tournament concludes on Friday, with Barbados taking on Dominica and St Vincent and the Grenadines hosting Grenada.
St Vincent and the Grenadines last won the WIFA tournament in 2015.