Posted on
Landowner set to flatten woman's home tomorrow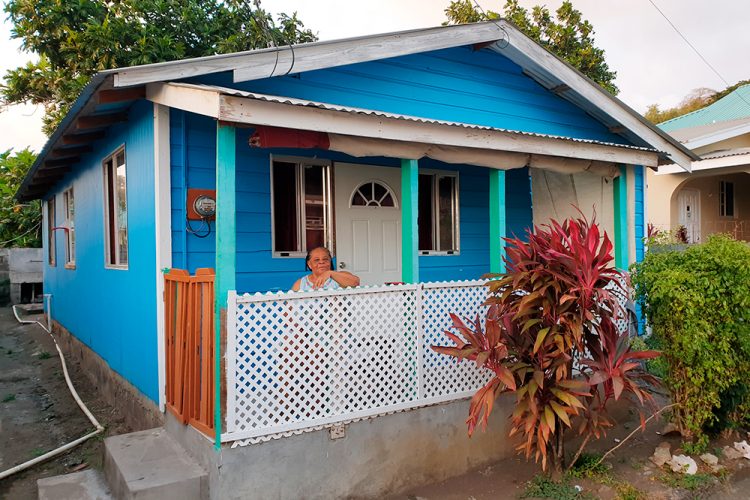 The possibility exists that a 61-year-old Calliaqua resident and her family will be homeless by tomorrow, March 6, as that is when a demolition team is scheduled to flatten their home.
Eleen Ashton, her niece, and three children have been instructed, by the court, to vacate the land on which they have built their board and wall house, as the property is owned by Ratho resident Franklyn Irwin 'FI' Jack.
Explaining the situation, Ashton said she has lived on the property all her life. She said that in 2000, the house was destroyed by fire and she lived at a different location until she rebuilt on the same plot of land in 2010.
She said that when she rebuilt the house with the permission of Jack, she was given an offer to purchase the land and she accepted, but at that time Jack did not have a deed to the land, so the transaction did not go through.
"I went to the bank, got a loan and it was approved and then there was nothing. The bank called me twice and he (Jack) met me and asked me if the bank called me and I told him yes and he said he was the hold up," explained Ashton.
She said that she never heard anything about purchasing the land after that, until 2015 when she was summoned to court in relation to her occupancy of the land.
She said that the first court date in 2015 was adjourned and at the second court date, Jack was sick and could not attend and another date was given.
Ashton claims that she went to court the third time, but was told that the matter had been dealt with a week before. She said she never knew what happened in court as she never inquired.
She claims that it was only on February 17, this year when a bailiff came to her house, sometime after 4 pm that she learned that she was expected to move.
"The bailiff said he was from the magistrate's court and I had seven working days to move from here. I have not spoken to Mr Jack. I went to a lawyer," said Ashton who is hoping that she can stall the process.
"I don't have nowhere to go. I will be homeless. You see me, all I trust in Almighty God," Ashton told SEARCHLIGHT on Saturday while adding that she is not sure what is the value of the 1,924 sq ft of land, but when it was offered to her a few years ago, EC$15,000 was the asking price, and that loan would have already been paid off.
"Mr Jack never told me I couldn't build back after the fire. I am not sure how Mr Jack came by the property. I born 1958 and grew up here," stressed Ashton.
But on Saturday, Jack said that Ashton was not being truthful about the issue and he is willing to part with the property for around $20,000, but no one has approached him to pay.
"That property has been in possession of my family for over 100 years," noted Jack who explained that when he was about to sell the property to Ashton a few years ago, there was a hiccup in that he did not have possessory title.
He said that land was handed over to him by his mother through a deed of gift and he later obtained the necessary documents to call the land his own. Jack noted also that before his mother died, she collected rent from Ashton, but since his mother's passing in 2008 no rent has been paid.
"She (Ashton) did not always live there. That's inaccurate," stressed Jack who said that Ashton's family was given permission to live on the land because her mother worked with his family.
"I was hoping she would make a serious offer," said Jack who noted that in 2015, Ashton was given six months to move and that would have seen her leaving the property on May 31, 2016. He said that Ashton's story about the court date in 2015 is also inaccurate, because on the day of the case, she did not turn up and the court even stood down the matter to see if she would attend and she never did.
He noted that the 2016 move to get Ashton off the property was stalled as VINLEC would not disconnect the electricity to the house without the consent of the person whose name appeared on the bill.
Jack noted that was also a mix-up because when he gave her permission to rebuild, he had to write a letter to VINLEC.
The former deputy Headmaster of the St Vincent Grammar School said that it is unfortunate that it has come to this, but he must be paid the full value of the property if the demolition process is to be avoided.