Posted on
CDC launches hopefuls for Miss SVG crown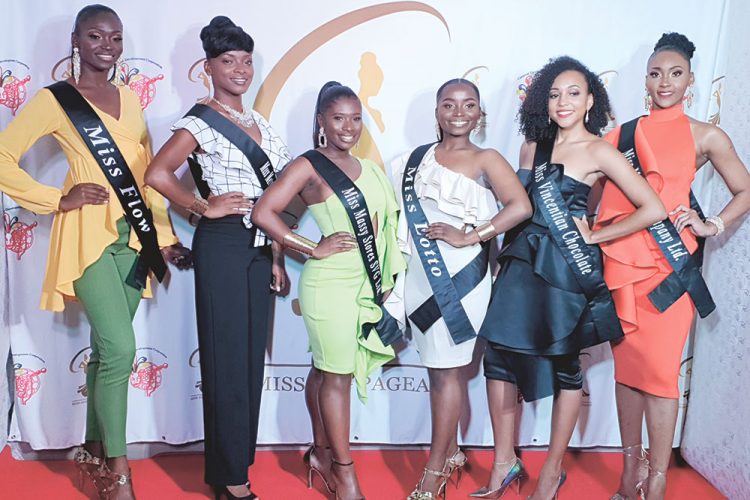 The contestants in the 2019 Miss St Vincent and the Grenadines pageant all share a common goal, that is, to win the scholarship that comes with the crown.
The six young women, down from seven last year, were sashed by their sponsors and introduced to the media last Saturday during the Carnival Development Corporation's (CDC) media launch and sashing ceremony.
Vying for the crown and a chance to further their education are Miss FLOW Sonia Delecia, Miss Vincentian Chocolate Megan Greaves, Miss Metrocint General Insurance Company Ltd Silvern Lavia, Miss Lotto Kircia Modeste, Miss Mustique Company Ltd Sharikah Rodney and Miss Massy Stores SVG Ltd Felica Thomas.
Unlike the other years when the women introduced themselves and gave insight as to who they are, no speeches were made, and the media had to track down the women for brief interviews.
Delecia is 26 and from Campden Park.
"I am currently a nursing student and I aim to further my studies in nursing anaesthesia, so if I were to win it would be a great opportunity for me," she said, adding that the scholarship and a chance to be a role model were the main drivers behind her entering the pageant.
Greaves is 21 and lives at Fountain.
"I entered the pageant because I see it as an opportunity to share my views and thoughts and opinions about how I would further develop St Vincent and the Grenadines," she told SEARCHLIGHT.
Greaves said that persons looking at the pageant which is slated for Saturday June 1 will get beauty, talent, "and everything that the country wants to see".
She said the scholarship is the major prize and motivated her to enter the pageant as her aim to study business management. Greaves is a finance assistant at Digicel SVG.
Lavia is from Fancy and she is 22.
"First of all, Miss SVG gives you the opportunity or the platform to empower ladies and to showcase your talent or to build your self-esteem.
"Most importantly if I am to be crowned Miss SVG, we all know the grand prize and I intend to pursue studies in criminal justice," said Lavia who is a police detective attached to the Criminal Investigation Department (CID) in Kingstown.
"It's going to be fun, it is going to be epic. All of the young ladies, we are prepared, and we are ready to showcase our talent," she said.
Modeste is from Georgetown and she is 20.
She has been interested in the pageant since she was a child and as she got older, her interest intensified.
"I am an aspiring teacher and I would like to bring the importance of language and literacy to the Vincentian population and I think that by entering the Miss SVG pageant I would hit a larger demography by doing this," said Modeste.
Modeste is enrolled at the Division of Teacher Education, and said if she wins the scholarship, she will pursue a bachelor's degree in education.
Rodney is 19 and hails from Greiggs.
She identifies as Garifuna and says she has always wanted to enter the Miss SVG pageant.
"As cliché as it sounds, I have always wanted to enter the Miss SVG pageant. For me it is not about being beautiful or being in the spotlight. I believe that it can offer a lot more for me and it can develop me holistically," said Rodney who is employed as a customer service representative at the First Caribbean International Bank (FCIB).
She is hoping that she can pursue a career in forensic accounting.
"Expect the unexpected but nothing but the best," Rodney says of show night.
Thomas is 23 and from the Mesopotamia Valley.
"Pageantry has always been a love of mine and I have always wanted to be an ambassador for my country and also a beacon of hope for my community. I like empowering women and I like when women take charge and show who they are, to actually be a positive role model for other young ladies that is why I decided," said Felica.
She noted that she is no stranger to pageantry as she took part in the Girls' High School Miss Heritage Pageant a few years ago.
"Quality, that is what you can expect from me at Miss SVG 2019 because I am currently the quality assurance technician at East Caribbean Bottlers limited," said Thomas smiling, while adding that the scholarship was her main reason.
"I have a degree in biochemistry, so I decided to enter Miss SVG because pageantry is a love of mine and it is something off my bucket list and life is short, so why not."
She said that she will pursue a master's degree in chemical and materials engineering.
The pageant is scheduled for Carnival City, Victoria Park and is the first big event for Vincy Mas 2019.