Posted on
CARICOM deeply concerned by actions of OAS Secretary General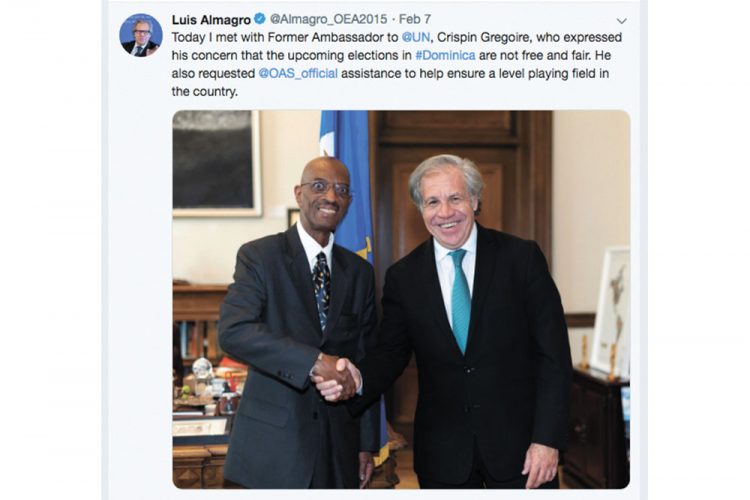 The Caribbean Community (CARICOM) says it remains deeply concerned "by the actions and statements of the Secretary-General of the Organisation of American States (OAS) which are outside the bounds of his remit as the Head of an international organisation."
A statement from Chairman of CARICOM Dr Timothy Harris said that on February 7, 2019, the OAS Secretary General associated himself with a suggestion that Dominica will not conduct free and fair upcoming elections.
This, according to the statement from CARICOM, is "the latest manifestation of inappropriate behaviour" on behalf of Luis Almagro, the 10th Secretary General of the OAS.
"Further, it is disturbing that without first consulting with the Government of Dominica, which is a Member State of the Organisation, he, as Secretary-General, should be associating himself with such an inference," the Statement said.
In the February 7 tweet, Almagro said,"Today I met with Former Ambassador to @UN, Crispin Gregoire, who expressed his concern that the upcoming elections in #Dominica are not free and fair. He also requested @OAS_official assistance to help ensure a level playing field in the country."
The tweet was accompanied by a photograph of Almagro shaking hands with Gregoire, who is an outspoken critic of the ruling Dominica Labour Party of Prime Minister Roosevelt Skerrit.
 "The Community once again calls on the Secretary-General to refrain from actions and statements which are beyond the competence of the Office and affect the impartiality of the Organisation which he has the privilege to lead," the statement from CARICOM said.