Posted on
'Famalay' video shoot for Heritage Square today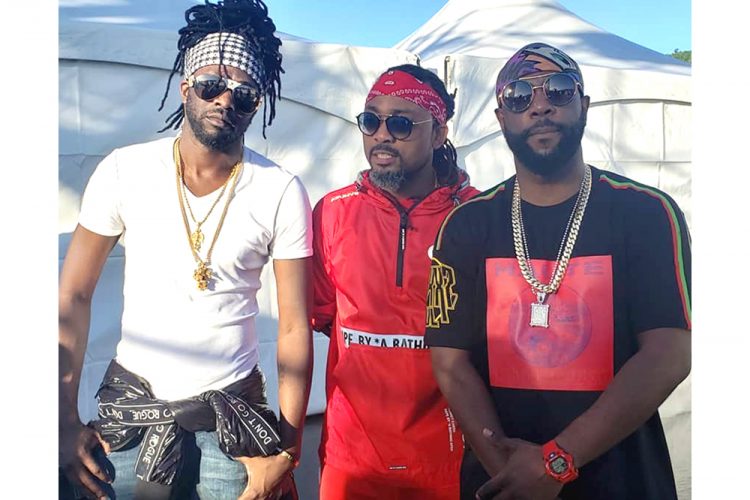 Heritage Square, Kingstown will come alive later today as mega Soca stars Skinny Fabulous, Machel Montano and Bunji Garlin film part of their "Famalay" music video there.
Skinny Fabulous, real name Gamal Doyle told SEARCHLIGHT on Monday that he and his musical family are calling on all the local party crews to gather at Heritage Square at 7 pm to be part of the video for the mega hit.
He said that the video for "Famalay" will have scenes from Trinidad, St Vincent and the Grenadines (SVG) and Dominica, the three countries whose nationals had input in the masterpiece.
Skinny, Machel and Bunji will arrive in SVG at 5 pm Tuesday and will move to Heritage Square for the local part of the shoot. They leave for Dominica tomorrow, Wednesday February 20.
"St Vincent is my home and I cannot be a part of a project and have it represented in just Trinidad," Skinny explained, while adding that the video is being filmed by Trinidadian company Dori Productions, while the local leg will be assisted by Vincentian Junior Lee of preciseleefilms.
"I am calling all crews because everybody has a particular aspect of their carnival that they are known for and we are known for the amount of crews we have. We are proud of our cliques, crews, teams and families so we are calling out everyone," Skinny commented.
The song is steeped in Caribbean culture and involves persons from three countries, Dominica, SVG and T&T. It embraces Dominica's Bouyon, SVG's energetic power Soca flavour and Trinidad's unique style.
The beat/riddim was created by Dominican music producer Krishna "Dada" Lawrence and was sent to Soca disc jockey "International DJ Stephen", following which the disc jockey passed it on to Skinny who invited Machel and Bunji to be on the song.
Skinny says that Dominica's leg will feature that country's Bouyon culture, while Trinidad's portion was filmed in the middle of the Queen's Park Savannah in Port of Spain with fireworks and pan music.
"We are having the aspects of everybody's culture," stressed Skinny who is hoping that the video can be released by February 25.
He added that the song is in contention for Trinidad's Road March title and if "Famalay" wins that competition, it will set another record as being the first Trini/Vincy/Dominican collaboration to win.
"The song is two months old and we out and going strong. We have two more weeks to go in Trinidad carnival and the infectious element of the song is still alive.
"If we win road march it will be the first time in history that a song that is not solely Trinidadian would hold that title," stated Skinny.
The Song, "Famalay" (colloquial word for family), was released on January 4, 2019 and in less than 24 hours became a hit and jumped to the top of the iTunes most downloaded reggae songs list.
The song asks that persons embrace one another, no matter, skin colour, nationality or race and come together for good.
Famalay was mastered by Parry Jack and costs US$1.29 on iTunes. It may also be purchased on Amazon. Persons may also listen to the song on YouTube (https://youtu.be/pD4lqYEwmiI).