Posted on
Consult me prior to any decision, says Browne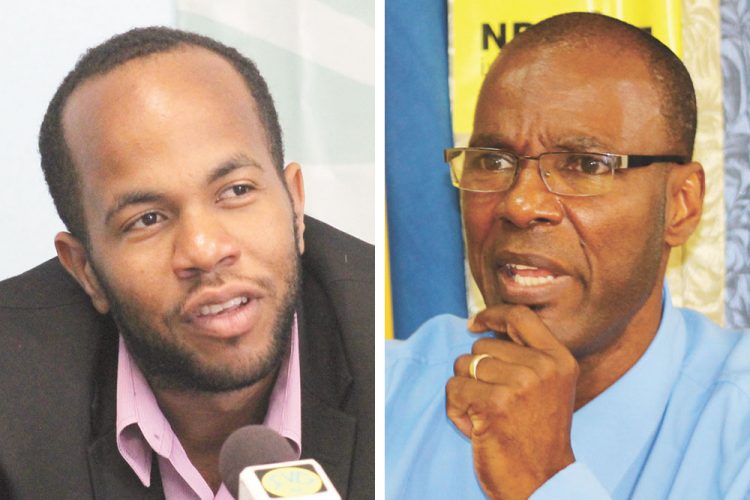 Luke Browne, the minister of health, is denying that he engages in micromanaging within his ministry, contrary to recent claims made by fellow parliamentarian, Daniel Cummings.
Cummings, who is the parliamentary representative for West Kingstown, called a press conference on Wednesday to address matters he said fall within his portfolio as the shadow minister of health.
While making reference to a memorandum dated February 2, 2017, Cummings said it would appear as though no one in the health ministry can submit anything for public consumption without the minister's approval.

The parliamentarian read from the memorandum written by Browne and sent to the senior assistant secretary, who was at the time in administrative control of the ministry until a permanent secretary was appointed to replace the outgoing one.
"I expect to be kept informed of all the material developments in the ministry. I do not imagine that any major decision will be taken on any matter without first consulting me and receiving my guidance or direction," Cummings said, quoting from the memorandum.
"It went on further; 'I require that you consult me prior to any decision or action and to provide for my examination a list of all incoming and outgoing correspondence of whatever description, including internal correspondence by electronic and other means and press releases daily'."
Cummings also said that what the minister was asking for would not be troubling, if it were not the ministry of health and the environment and the big gulf between technical and administrative matters.
He added that in any government department, there is an administrative head, the permanent secretary; and a technical head, the chief medical officer.
But the health minister told SEARCHLIGHT yesterday that the contents of the memo set out the relationship that exists in the ministry as governed by the Constitution of St Vincent and the Grenadines.
While Browne said that he did not wish to comment extensively on an internal matter, he pointed out the memorandum specifically asks for a list of all incoming and outgoing mail correspondence and not necessarily the contents.
"Did it say that I have to approve every correspondence before it's sent? What it's simply requesting there, is a daily list of incoming and outgoing mail. Could that be something so impossible for a minister to ask to be provided with?," he said.
The minister continued: "Is it not a prudent exercise of the minister's functions to seek to understand what is going on in his ministry? Men want to take that and try to create mischief with it? This is just so pathetic that he going to look to hold on to this kind of nonsense. I ask for a list of all incoming and outgoing correspondence and that somehow is such a great burdensome requirement to be asking".
Browne said that the facts of what is written speaks for itself and it is simply a matter of making sure that as minister, he has an understanding of what is going on with the ministry that he has responsibility for.
He further reiterated that what he set out in the memorandum is allowed for in the Constitution.
Browne also said that as minister with responsibility for health, his role is to see if he can guard and protect strides being made in the field and see if there are any other areas for improvement.
He added that there are many positive developments within the Ministry of Health, Wellness and the Environment but "they want to create some confusion over things which certainly don't exist and take away attention from the fact that we are making strides in healthcare".