Posted on
Mother believes her son's death was a wilful act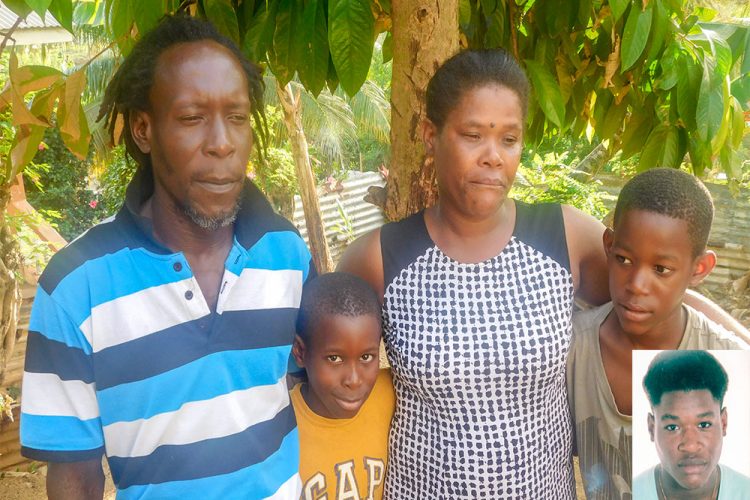 by Bria King
A grieving mother is calling for justice in what she believes was a wilful act that caused the death of her 18-year-old son.
According to a report from the Police, Sachin Charles was "allegedly removed" from the sea at Villa Beach by SVG Coast Guard Service around 4 p.m. on Sunday and rushed to the Milton Cato Memorial Hospital, where he later died.
His mother, Nicole Burgin told SEARCHLIGHT yesterday that Sachin left home with his twin brother, Sunil around 2 p.m. on Sunday to go to the beach with some friends who also live in their neighbourhood.
"He left and he say he going beach with some friends down the road. I said to him, if you going to the beach, give me the names of the people who going with you in case of anything. He start to call some names and then he stopped and he and his brother left," she said. "His brother come back, say his bike tyre puncture. And he fixed it and when he fix it, he say he going again. I tell him Sunil, don't go nowhere. You done reach home, stay home. He say mommy I going because I want to go by the ATM and collect some money."
Burgin said her son left without her knowledge and it was one of her younger children who told her he had gone.
She added that it was about 15 minutes later when she heard someone knocking at the gate and when she went to see what was wrong, Sunil was there, telling her that his brother had drowned.
The mother of six said that the police have told her that they are looking into the matter because they are unsure of the circumstances surrounding the incident. But she said from what she gathers from Police, neighbours and persons on Facebook, it seems that Sachin may have been pushed off a jetty and into the water.
Burgin told SEARCHLIGHT that neither of her twin sons can swim.
"I understand the little boy dem is saying they was struggling, they was wrestling. People is saying that he say he can't swim and still they push him over. If he say he can't swim, why you push him over? And when you done push him over, they run leave him," she said as she fought back tears.
She said that when they went to the beach on family outings, Sachin would usually sit under a tree or use his feet to play with the water on the shoreline.
And she shared the view that what happened to her 18-year-old son was a wilful act because they took his belongings and have yet to return them to her or hand them over to the Police.
"Everyone of them run and they run, they take his bike, they take his phone, they take his sun-cap, they take his shoes, his chain, his earring, his watch and even to his shoes and his clothes. If they ain't wilfully kill him, why walk with everything?," Burgin said.
"Up to now the police ain't see those things, nor do I. Why they have to do those kinds of things? I'm still waiting on the police. We're supposed to do an autopsy in the morning, so after that, I don't know what will happen."
Burgin called for those in possession of her son's belongings to turn them over to the police.
The Diamond Estate resident said that she was not happy with the situation and she does not intend "to leave it like that".
She said that while her son "had his ways", he was loving and would always make jokes. Burgin said Sachin was also generous and would often share with his friends if they said they were hungry.
"Sometimes I will send him to the shop and he go say mommy, I take your money and buy a bread give somebody or I take two dollars and give somebody because they say them hungry. So why do him like that? If he can give you, then you shouldn't do him that. I hope they do find those culprits," she said.
She further called for the matter to be wrapped up quickly so that she could get justice for her son "because I will not sleep until I get justice. I am a child of God and I will not stop praying until the day I die. I will pray until I can pray no more."
Sachin graduated from the Carapan Secondary School last year and was in the process of applying to become a security guard with Guardsman.
Police are still investigating the matter.