Posted on
Livestock at Peter's Hope being destroyed by dogs, residents complain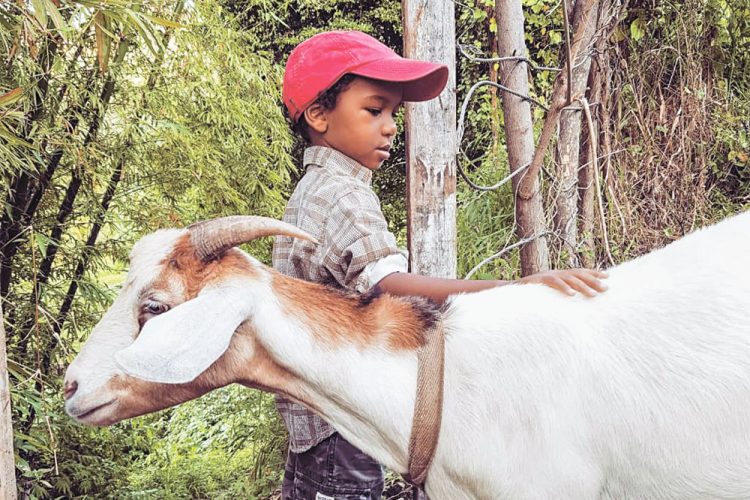 REARING ANIMALS from young and having them killed by a pack of dogs without the possibility of compensation or some sort of redress is a heart wrenching feeling.
But that's the reality of Peter's Hope resident Tequila Ross whose herd of Nubian goats, valued at around EC$2500 was wiped out by a pack of five dogs over a period of months.
"It was really a business I was starting for my sixyear- old son. I was guiding him till he is a good age to manage them on his own," Ross, a popular photographer, told SEARCHLIGHT on Wednesday.
Ross said there is a pack of dogs that roams free at Peter's Hope at nights and attacks livestock, sheep, goat and even calves.
He said two of his goats were bitten up and died last year and three underwent the same fate this year, while a ram he owns was also attacked, but stood its ground. The latter incident he witnessed from a window before running out to chase away the dogs.
Ross said that the dogs are displaying pack behaviour, with the smallest dog in the group doing all the barking while the others attack.
"It's upsetting because two of those goats were like actually pets for my sons and I haven't even really told them what happened so far and haven't been taking the boys to the field recently," Ross sadly related.
He added, "when you make a report to the police it's like a waste of time because I'm not sure if they even follow up any investigations, but I know also the dogs never have owners when this happens".
The angry man said that it was hard when he lost his nanny called, "Boat", because that is the doe that started the herd.
"When I first made the investment, she came home in-kid and had two, so I was in luck, but little did I know in a few years I'd start losing goats to dogs," Ross said while adding that he thinks that the dogs belong to different persons from the community.
He noted also that the dogs have attacked his last ram twice and a few nights ago the dogs attacked a calf.
Kenshaw "Marley" Williams, a policeman from the area said that he lost 14 goats to dogs.
"Dog kill everyone. People have them dogs lose, and nobody own them when this happen. This is really hurtful," said Williams.
He said that one of his animals was valued at EC$350 as it was fully grown and to have this sort of thing happen is very depressing.
"It hurt me real bad, is pure destruction," stressed Williams.
Ross spoke about the issue on Facebook and the post, made on January 14, was acknowledged by other persons who lost animals.
A Facebook user going by the name Markneil Lewis commented, "A few weeks ago, I met only the bones for my goats. One was pregnant. Real pain dred," while another Facebook user, Grazer Lewis commented, "I had 14 goats bro. Dogs in the area clean them out. One night after 11, I start killing from captain to crew and the neighbours came out saying I am wicked."
Gilbert Frederick said, "This is becoming a serious problem…the persons who own these animals know what they are doing. A few years ago, my father lost a significant amount of his sheep and goats to these dogs…I suggest you implement some drastic response…let them feel."
When SEARCHLIGHT visited the area on Wednesday, all was quiet, but a woman who preferred to remain anonymous said that on Tuesday night she was walking home when five dogs rushed at her.
"It was a lucky thing I was skilful and had my Rambo knife else they woulda bite me up," she told SEARCHLIGHT. She added also that she thinks she knows who owns the animals, and it is someone living in the area.
A farmer on the way to the mountains also said dogs killed some animals belonging to his friends.
Inspector Henry Providence of the Royal St Vincent and the Grenadines Police Force (RSVGPF) traffic department said that he has not heard about the attacks. He said that persons should report the incidents to the police in their district and once the dangerous animals can be identified the police will deal with the problem. Inspector Providence added also that persons are, by law, allowed to protect their property.