Posted on
Former PS pleads guilty to reckless driving; victim loses his leg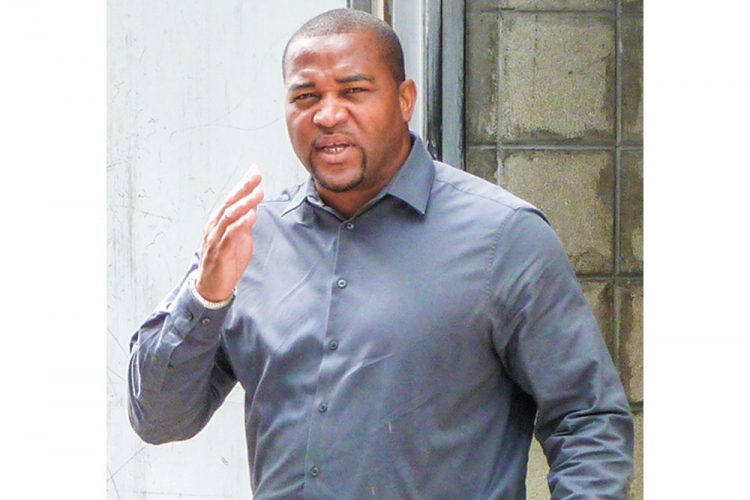 A FORMER Permanent Secretary has pleaded guilty to reckless driving, which resulted in a 54-year-old man losing his leg in 2017, and his guilt has cost him $1000.
While civil liabilities may be separately decided, Allan Alexander, former Permanent Secretary in the Ministry of Agriculture and current Director of the Regional Integration and Diaspora Unit, faced a traffic charge in relation to the incident this Wednesday.
Before the Serious Offences Court, and in response to Chief Magistrate Rechanne Browne-Matthias, Alexander responded that he was guilty of recklessly driving P1277 on September 17, 2017.
The victim, Wendell Toney, was also present in court, along with two crutches to aid his movement in the absence of his left leg.
The police read that at around 8:40 pm on the said date, Alexander was driving along the Argyle public road, and as he drew closer to the Argyle International Airport (AIA), he lost control of the vehicle. Alexander collided with HN754, which was being driven by Toney, and was travelling from Kingstown to Georgetown. The police cited the serious injury that Toney had received, and they noted that both vehicles had been written off because of the extent of the damage to both.
After investigations, the police charged the defendant.
From SEARCHLIGHT's reports, on September 17, Toney's leg was said to have been severed on the spot, and he was removed from the car wreck and rushed to the Milton Cato Memorial Hospital (MCMH). At the time Toney was an employee of the St Vincent Electricity Services (VINLEC) and drove his minivan part time.
Defence counsel Grant Connell represented Alexander, and he mitigated that that his client had accepted the extreme error in judgment made, and that he was "extremely remorseful."
Connell said that Alexander has assisted in every way with the "unfortunate injury" that Toney had received, and that Toney was almost fully recovered now.
The lawyer went on to commend Corporal 408, who responded on that night. "It's because of his reaction, and his action as a policeman that greatly assisted Mr Toney," Connell stated, continuing, "The response time and what he did, he was even commended by doctors when he got to the hospital."
The Chief Magistrate noted before sentencing Alexander, "This is a traffic offence. I know other matters could be dealt with elsewhere in the court, but I am dealing with traffic issues, and I can only act pursuant to statute. Statute gives me certain limitations."
She stated that she could fine first offenders up to $2500, but taking on board the mitigation and guilty plea, she fined Alexander $1000.
She informed Connell that Alexander had to pay some of the fine immediately.
Alexander was told to pay $400 forthwith, or spend four weeks in prison. He is to pay the remaining $600 by January 25, or spend six weeks incarcerated.