Posted on
Public asked to support NKSF's efforts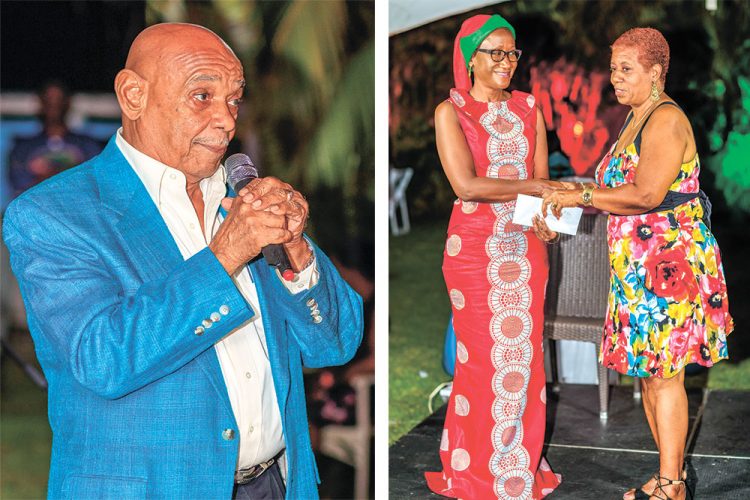 Pastor Dr Walford Thompson of the Arnos Vale Covenant Assembly has pledged to increase the church's yearly donation to the Norma Keizer Scholarship Foundation (NKSF).
And he is hoping that others will follow in pledging donations to the foundation in an effort to help advance the educational pursuits for a number of deserving students.
Thompson made the announcement during the foundation's "The Ultimate Christmas Experience" fundraiser last Sunday.
The pastor asked for persons to pledge their donations to support the cause "so that this organization will not only be able to meet its obligation presently where they are involved but by the grace of God and your cooperation and your involvement, be able to expand it".
The Ultimate Christmas Experience was a fundraiser initiative held at The Bungalow and featured performances from The Bowmans, Carlton "CP" Hall, Bomani, Andrea Gaymes, Michaela Frederick, Bassy and Friends and Kevin Rodriguez.
And the chairman of the foundation, Dr Adrian Fraser said that it is the hope that the fundraiser be an annual event.
"We anticipate that very soon, we'll have a situation where we will have 10 scholarship winners in secondary schools, four at Community College and what we have to do is to try to raise funds to keep these going so this is the reason for this fundraising activity and we try every year to have at least one," he said.
Dr Fraser said that the foundation engages in a "delicate balancing act" between students' need for financial assistance and their academic performance, when it comes to awarding scholarships.
He explained that many of the shortlisted people were deserving in both instances, which led to providing one-off bursaries.
The chairman further stated that because of Sunday's fundraising activity, the NKSF will be able to provide assistance to more students and he thanked persons who participated in the venture.
Giovanni Slack, one of the first recipients of a scholarship from the foundation also delivered brief remarks at Sunday's event.
"The scholarship has been very beneficial to me as I always have my needed school supplies and I'm learning how to manage money so to the Norma Keizer Scholarship Foundation, I'm very appreciative to you and I intend to continue to do my best to make myself, my family, my school and the foundation very proud," the 14-year-old said.
Slack, a fourth form student at the St Vincent Grammar School, said that when he received the scholarship three years ago, his mother was second year nursing student, so it was a blessing to receive financial assistance.
The scholarship recipient has been described by teachers as "an excellent, motivated student who is a pleasure to teach" and at the end of the last school year, he placed first in exam, first in term and first overall with averages of 89.1 per cent, 86.5 per cent and 87.7 per cent respectively. And the St Vincent Co-operative Bank has committed to giving Slack a Junior Penny Savers Account with a starting balance of $500.
Since the foundation's inception in 2015, it has disbursed over $50,000 in scholarships and bursaries to 22 young people, including one at the University of the West Indies.
Clare Keizer, the secretary of the NKSF said their work would not have been as impactful as it has without the support and generosity of several sponsors.
Persons interested in donating may do so by contacting any member of the board of directors: Dr Adrian Fraser, Clare Keizer, Duane Daniel Esq., Jeannette France, Jude Knight, Corletha Ollivierre and Gillian Griffith.
Donations may also be made at the SEARCHLIGHT office in Lower Kingstown Park.
All donations should be made out to the Norma Keizer Scholarship Foundation and may be on an ongoing or one-off basis.