Posted on
SVG's 'best dressed garbologist' retires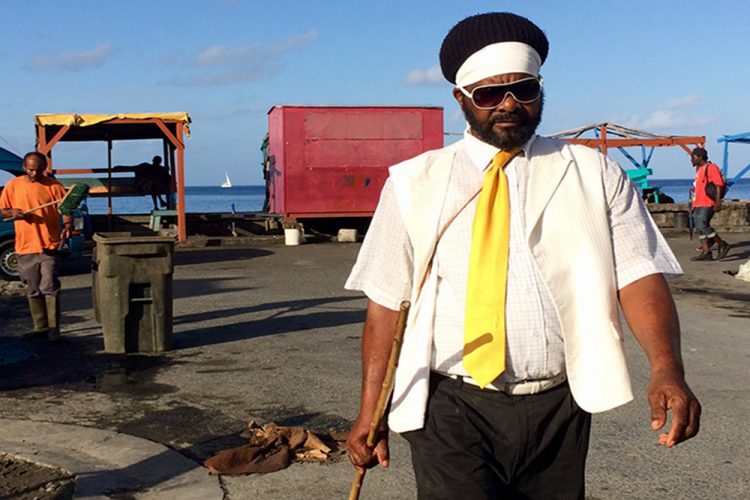 As the "best dressed garbologist" in the country steps into retirement, his last message to Vincentians as a sanitation worker is that they should clean up their attitude about littering.
Randolph 'Pinchum' George, 59, who was given the title of the "best dressed garbologist" in St Vincent and the Grenadines (SVG), and voted the Best Public Health officer in Interactive Media Ltd.'s 'Best of SVG' 2017, clocked in for the last time last Monday.
George, who was dressed to the nines in a crisp white blazer, matching dress shoes, a yellow tie and fedora, said he was feeling good when he spoke to SEARCHLIGHT on his first unofficial date of retirement. He officially retires when he turns 60 on December 20, but is currently on leave.
While 'Pinchum' was grateful to the members of the public who appreciated the work that he did over the last 26 years, he also spoke about the challenges that he and his colleagues face doing the job.
"It's not easy working at the sanitation department," he revealed.
"A lot of people figure because you working to clean garbage and ting, you is nobody, you dunce, you illiterate. I tell them no," George said.
"Sometimes I used to work on the garbage truck, if we reach certain areas and we thirsty, and we ask somebody for a drink of water, they will give you in one of the worst glass, you know, like they scorning we then," he continued.
George said he doesn't think that this should happen.
While speaking, the retiree gave another example of the scorn that the workers face at the hands of the citizens who rely on their service.
He said that persons keep dogs as pets, and treat them preciously, and don't want others to hit them. However, sometimes when these dogs are knocked down, the owners don't want to claim them anymore.
"When the sanitation authorities send somebody to bury it, they hiding from it, and they don't want to see he (the worker), he nasty," George explained, adding, "Instead of saying well boy when you done come for a little ten dollars, and you go buy a little drink, no they scorning he."

George, who says that illegal dumping is becoming a major issue that no-one is paying attention to, is asking that people stop littering.
"The habit of the Vincentian, they eat they roti, they throw the paper on the ground, they drink a juice, the cup on the ground, they eat a food, the box on the ground, and the slang is that if they ain't mess up the place, we cannot get work to do, and I think that is wrong. That is not right at all," George, who has been sweeping and shoveling after such miscreants for years, observed.
However, despite those challenges, and despite sickness in recent years, with Diabetes, cataracts and eye problems on his heels, George remains positive.
He said he has never regretted working at the Sanitation Department, "I enjoy doing the work. I enjoy doing the actual work, because to clean your country, it's supposed to be something good that you're doing for your country."
He will be moving on to his childhood dream of starting a bakery, which will be called, 'Pinchum's Bakery,' during his retirement.
'Pinchum' says he was given courage by certain persons including Douglas 'Dougie' DeFreitas from Nice radio, who he says gave him the title of 'best dressed garbologist', and his supervisor Ozzie Constance, who took care of him when he was sick.
Lastly, Carlton 'CP' Hall, who used him as an example, and who said that he (George) works with pride, dressed in his jacket and tie, and that they (his students) must take pattern.