Posted on
Habit of wearing headphones may have been victim's undoing – workmate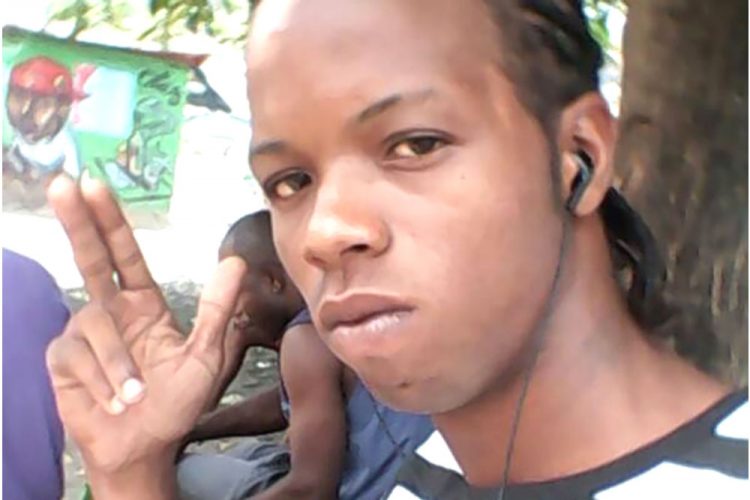 A habit that Kevin Patrick was known for, might have been one that prevented him from hearing the approach of his killer.
Patrick, 27, was found dead on Saturday in First Land Mountain, Layou where he farmed lands.
According to police reports, some unknown person (s) allegedly shot Patrick in the head and left arm with a gun between 10 a.m. on Friday and 9:35 a.m. on Saturday.
Patrick's girlfriend, Keyshel Thompson told SEARCHLIGHT that her boyfriend was a cool individual and that she had no idea why anyone would want to hurt him.
The couple have been in a relationship for almost two years and they have a daughter together.
"Right now, I really stressed out and I don't know what my next move from here would be because he was the breadwinner for the house and he was a very loving father to his daughter," she said, as she fought back tears.
Thompson, who attends the Barrouallie Technical Institute, said she became worried about her boyfriend when he didn't come home on Friday evening.
She said that she went looking for him on that day after she had come home from school, but no one seemed to know where he was.
"I got up early Saturday morning…and began searching again because I found it strange that he didn't come home the Friday night. No matter the hour he's down the road with his friends, he would come home. Could be 1, 2 o'clock in the morning, he would find himself home," the 26-year-old said.
She explained that further inquiries led her to one of Patrick's friends, who told her that her boyfriend went into the mountains on Friday.
And it was shortly after that she found out that he was found dead.
Thompson told SEARCHLIGHT that she had always warned him about going into the mountains by himself and she knew that his friends usually told him the same thing.
"You don't have to be involved in anything for somebody to want to hurt you," she said.
Thompson also said that Patrick could usually be seen listening to music from his headphones.
And one of Patrick's friends, Michael Joseph said that when he and another friend discovered Patrick's body on Saturday morning, he had headphones over his ears.
"When we find the man, we find the man wid the headphone over he head…if anybody sneak up pon he, come like he couldn't hear nothing," Joseph said.
Patrick's friend told SEARCHLIGHT that it was routine for them to go into the mountains together on Sundays to work two pieces of land where they had planted come crops.
He added that if he wasn't working in the week, they would also go up to do some work.
He said he saw Patrick on Friday and had shouted out to tell him that he wouldn't be going on that day but he didn't respond.
Joseph said he later learned that Patrick was wearing earphones.
The Layou resident said that "you must need somebody in the mountains wid yo in case ah anything," especially since one never knows what will happen when.
Joseph said he was close to Patrick and that they usually spent a lot of time together, working on small projects or just hanging out.
And he told SEARCHLIGHT that he was seriously affected by his friend's death.
"Me hardly eat. Me hardly sleep at night all kind ah thing. Every night me wake up in the middle ah night and cant go back go sleep," he said. "Me and he bin close. Anything me ask him for do, he do. We done have big plans for Christmas all kinda thing. Me feel it."
Patrick's mother, Stephanie Patrick was also affected by her son's death and she said that she felt bad when she heard the news.
"He does be alright and thing. He doesn't interfere with people. He go mek he little joke and what you call it, but that's it," she said of her second son.
Patrick said that she was close with her son and that he worked in sanitation.
The police are soliciting the assistance of members of the public who has information that will assist in the investigation and prosecution of this case. Persons are asked to contact the ACP in-charge Crimes at 1(784)456-1339 or the officer in charge of CID at 1(784)457-1211 or 1(784)456-1810.