Posted on
Cousins take top prize in 2018 Ideas and Innovation/i2 competition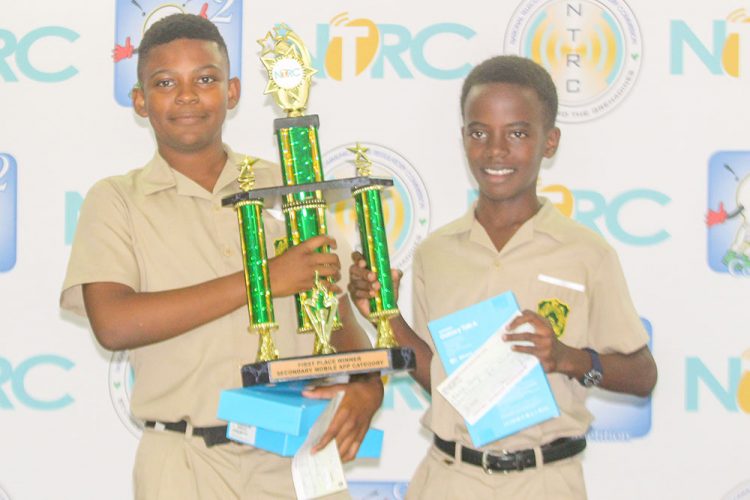 The difficulties experienced by a trafficker in sourcing agricultural produce was the inspiration behind a mobile application which won her grandsons the first prize in the secondary schools' category of the 2018 Ideas and Innovation/i2 competition.
Cousins Myles Jones and Noah Horne, second formers at the St Vincent Grammar School (SVGS), were adjudged winners on Wednesday at the Methodist Church Hall in Kingstown in the competition organized by the National Telecommunications Regulatory Commission's (NTRC).
The boys, going by the name "Team Titans", designed an electronic platform with the help of their mentor and teacher Jason Alexis, that allows buyers and sellers of agricultural produce to interact with each other.
The mobile application platform allows sellers to post their produce for sale along with the price and volume and also allows buyers to see the information and contact the sellers via telephone. It also allows sellers to contact buyers.
During their presentation, the duo explained that they saw their grandmother travelling far distances to purchase produce while the same produce was available closer to her location for the same price, cheaper or just a little more expensive.
Noah, from South Rivers, said he felt great that he and his cousin were able to win the top spot in the prestigious competition.
"We saw our grandmother struggling as a trafficker and we decided to do it. I feel great," Noah said while smiling.
Myles, a Richland Park resident commented, "my aunty helped and my mom and our mentor. I am very proud. I wanted to win, I expected to place, but I did not expect to win."
The duo and their mentor were rewarded with cash prizes and electronic tablets (from King Computers).
In second place in that category was the St Joseph's Convent Kingstown's "Skai Secure". This group was made up of Rohven Ashton, Ronicia Douglas and Jenique Scott-Baptiste. Their app is a clock in and out system that notifies parents when students are late or absent from school. They were rewarded with cash and smartphones (compliments FLOW).
Coming in third was the group "NUSS Conquerors". This group hails from the North Union Secondary School (NUSS) and is made up of Shanique Morris, Shaffia Strough and Ariea DaSilva. Their app, "Triple Tap", allows a person to tap their phone screen three times if they are in danger. The app then sends emergency signals to three pre-saved numbers and the police. The app also sends the person's location.
The other competitors in this category were "Beatrix" of the St Martin's Secondary School (SMSS), "SVGivers" of the SVGS, "HealthTechs" of the Girls' High School and "Supanova" of the SMSS.