Posted on
Bandits attack home in Hollywood, Redemption Sharpes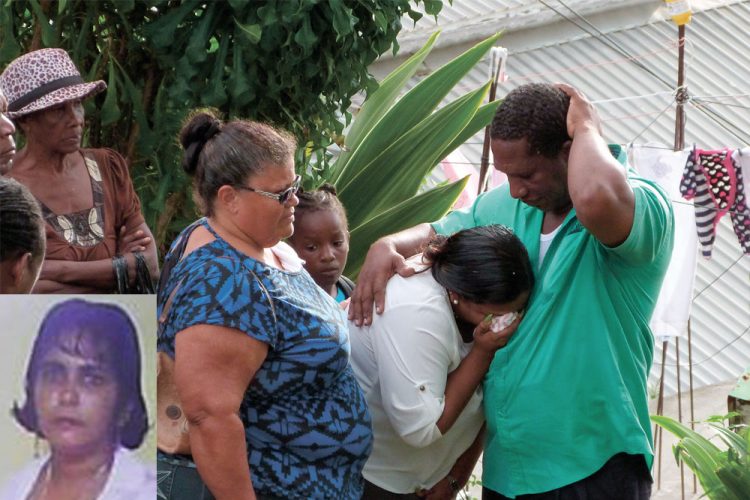 by Bria King
A mother of three was shot dead at her home in Hollywood, Redemption Sharpes on Wednesday.
And police have brought in four men for questioning in relation to this incident.
Sabitree Lyttle, 56 was found unresponsive by police on the balcony area of her house on Wednesday afternoon. According to police reports, the intent behind the shooting is unknown.
It was also reported that the woman was in the family-owned provision shop located in the upper level of her house when she was approached and shot by armed persons.
On Wednesday, relatives and neighbours stood behind yellow tape of the cordoned off area in Redemption Sharpes as police investigated the scene.
"My wife was a nice person, a cool person. You ask she for anything, she give it to you. When I go think twice, not she. She always try to help. Anybody ask she for help, she help them," her husband, Brent Lyttle told SEARCHLIGHT on Thursday afternoon as he waited for the autopsy on his wife's body to begin.
The widower, who works in sales for Coreas Distribution, said that he was on his usual route in South Rivers when he received a call saying that there was an incident at his house and that he should hurry home.
After that first call, he said that he received others from his bosses all informing him that something had happened.
He said that he has been married to his wife, who is originally from Berbice, Guyana, for 20 years.
They have three children together – two boys and a girl – and none of them were at home at the time of the incident.
As he fought back the tears, Lyttle said that his wife's death was seriously affecting the entire family.
He further revealed that one of her sisters had to be admitted to a hospital in Guyana after she found out that Sabitree had been killed.
"My hope and my desire is that God really show up these guys and bring these guys to justice. For too long, we have this stupidness going on in this country and somebody really need to pay the price that they're supposed to, pay the price that need to be paid but I'm leaving it in God hands," the widower said.
Residents of the Hollywood/Paul Over area are also mourning the loss of their neighbour.
"I'm just sad," one resident said, noting that persons with shops in the area have complained about being threatened. "I hardly ever see she outside. She don't be out, she don't trouble nobody."
Another resident also said that "she was not ok" as she expressed grief over Lyttle's death.
Assistant commissioner of police in charge of CID, Hesron Ballantyne told SEARCHLIGHT that the police will do their best to ensure that justice is done.
"We always approach these matters with much seriousness and we continue to do so. As usual, we will be asking the public for any assistance that are available out there…if you want to remain anonymous, give us a call with whatever information you have which can assist us to bring this culprit to justice," he said.
On Wednesday evening, police issued a wanted bulletin for Jerroy "Jay-Jay" Phillips who was wanted for questioning in relation to the shooting.
And yesterday, it was reported that Phillips was in police custody.
Police have also confirmed that three other men were also held for questioning in relation to the same incident.