Posted on
Man flees police, charged with seven offences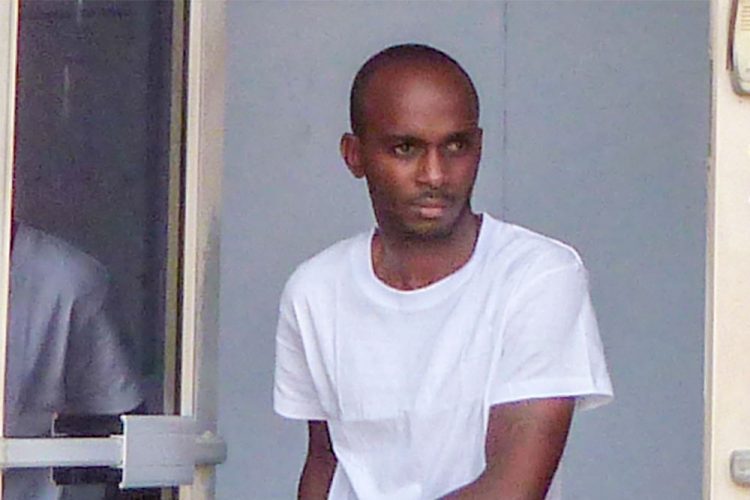 A man who is alleged to have fled from the police, leaving his 11-year-old son behind and knocking over a traffic cop on his bike in the process, has been charged with seven offences.
Thirty-year-old Jameison Black of Calder has been charged with reckless driving on not one, but four different roads last Thursday.
When Black appeared at the Kingstown Magistrate's Court last Friday, he showed no great change in emotion or expression as his charges were put to him. In fact, the only words that he spoke before the court were "Not Guilty."
Black was well represented in his predicament, defence attorney Stephen Williams informing that he was "assisting' the defendant, but only at that juncture.
The defendant was read his seven charges by Senior Magistrate Rickie Burnett, who indicated that Black was charged that he did, on Halifax Street, on November 8, drive the vehicle PT640 recklessly.
Further the Calder resident was charged that he did, on the same date, in Richmond Hill public road, Sion Hill public road, as well as Arnos Vale public road, drive PT640 recklessly.
Again, on November 8, he was told that, driving the same vehicle, he failed to keep it on the left side of the road, and that he failed to comply with the lawful direction given to him by a police officer when charged with the regulation of traffic.
Once again, on this date, Black was charged that he did assault police constable Brinsley Bobb of Richland Park, and caused him actual bodily harm.
To all the charges levelled against him, the Calder resident maintained his innocence.
Black sped through the issue of bail smoothly as Prosecutor Corlene Samuel indicated that she had no objections.
Therefore, he was allowed bail in the sum of $2000, with one surety. The requirements were easily met, and the defendant was out of court as speedily as his alleged driving.
The charges were all requested, by the Prosecution, to be adjourned to a date when criminal matters were to be addressed. Black will next appear on January 22, 2019.
On the date in question, Black is alleged to have driven up Grenville Street past the High Court on the wrong side of the road. He was pulled over by a traffic officer and asked to stop on the FLOW boardwalk after which the officer requested his driver's license.
Reports are the officer thought that Black was acting suspiciously and asked him to step out of the vehicle which he refused. By that time another officer, on a motorbike, pulled up to assist the officer who had stopped Black.
It was reported that Black's 11-year-old son exited the vehicle after which Black is alleged to have sped off, knocking over the officer and his bike. The officer is said to have picked up his bike and given chase.
Black is alleged to have knocked down a pedestrian in the Kingstown Hill area while trying to escape from the police officer who was giving chase.
He was nabbed in the Arnos Vale area after driving the vehicle behind Massy Stores.
Police say they have no idea why Black did not comply with the orders given to him as both his driver's license and vehicle insurance are up to date.