Posted on
SVG rule ECVA men's senior volleyball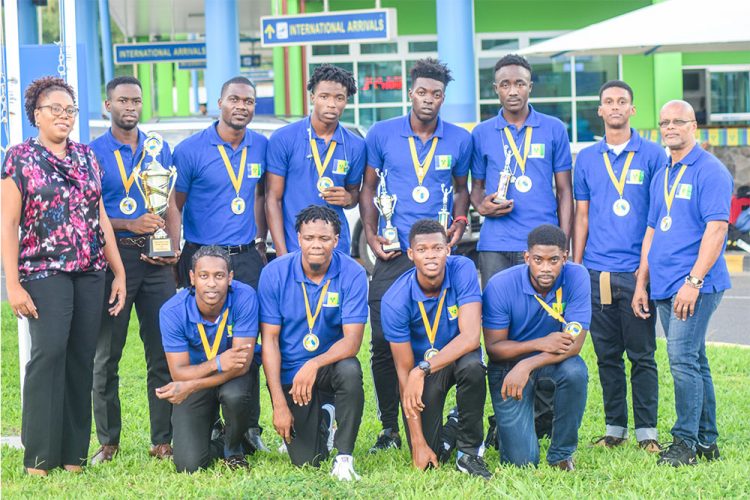 St Vincent and the Grenadines ended at the top of the heap in the 2018 Eastern Caribbean Volleyball Association (ECVA) senior men's volleyball tournament, which ended at the Laborie Indoor Facility last Sunday night.
Overcoming Antigua and Barbuda 3-2 (22-25, 25-13, 26-24, 20 – 25, 15-12), in a nervy five-setter, landed St Vincent and the Grenadines the title and another visit to the inter- continental championships, next September in Cuba.
It was sweet revenge for St Vincent and the Grenadines, who lost out to the Antiguans last year in St Lucia.
Sunday night's win crowned off a late three-match winning streak for the Vincentians.
A five-setter on Saturday against former ECVA powerhouse St Lucia, set up SVG's berth in the final.
St Vincent and the Grenadines, after losing the first two sets, 18-25 and 13-25, reversed their fortunes to win 25-13, 25-16, 15-10.
Before meeting the St Lucians, St Vincent and the Grenadines whipped St Kitts and Nevis 3-0 (25-11, 25-13, 25-22), in the quarter-finals.
St Vincent and the Grenadines had to settle for second place in their group, beating the British Virgin Islands, 25-17, 25-17, 25-23.
A 23-25, 23-25, 22-25 loss to Grenada, sent SVG to face St Kitts and Nevis, which placed third in the opposite group.
The performance by the volleyballers brought smiles of contentment to president of the SVG Volleyball Association Suzanna Leigertwood-Ollivierre, who was on hand at the Argyle International Airport last Monday to welcome back the team from Grenada.
A beaming Ollivierre told SEARCHLIGHT, "I am extremely proud of the team… They went there missing some key players, but they gelled together and worked as a unit".
Ollivierre believed that the extra expertise received by the team from Cuban–born Francisco Cruz Jimenez, was critical in the team's output in Grenada.
Ollivierre noted that the win underlined the depth of SVG's volleyball and has called for individual, corporate and governmental support, as the team goes forward to the NORCECA inter-continental championships.
Awards
St Vincent and the Grenadines collected three individual awards, with Asmond Franklyn pouching two and Deandre Quashie, the other.
Franklyn, the best scorer/ spiker with 83 points, was declared the tournament's most valuable player.
Quashie's statistics put him as the tournament's best blocker.
Final team standings: 1st – SVG , 2nd – Antigua and Barbuda, 3rd – St Lucia, 4th – Grenada, 5th – St Kitts and Nevis, 6th – British Virgin Islands