Posted on
Get behind Vincy products – Camillo Gonsalves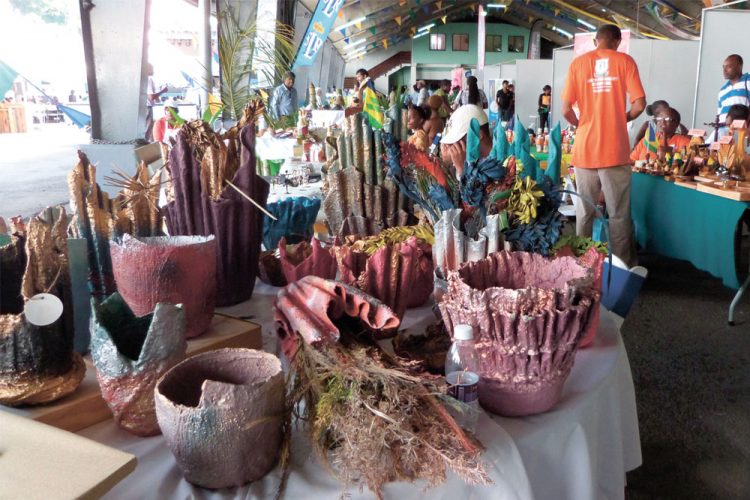 The Minister of Economic Planning rejected the 'myths' surrounding the "Made in SVG" label at the launch of this year's Everything Vincy Plus expo, which features over a hundred local businesses.
Encouraging buying local is the idea at the heart of the Everything Vincy Plus Expo 2018, facilitated by Invest SVG, in collaboration with the Caribbean Export Development Agency(CEDA), which kicked off this Tuesday, and will end on Sunday.
Certainly, the idea to have local businesses display their products and services to the public seems to have taken off since the inaugural expo last Independence, and the event has grown significantly, seeing the business participation tripling, and the length of time over which it takes place doubling.
Speaking at the launch on Tuesday morning, Minister Camillo Gonsalves showed his support of Vincentian made products, and asked Vincentians to get behind them as well.
To this end, he indicated that he would like to take the opportunity to, "address a few myths that this Expo hopes to dispel, and a few truths that we hope to affirm in the interest of our Vincentian producers and consumers."
"It is a myth that "Made in SVG" means of lesser quality. Many of our local products are produced at world class standards so that consumers can confidently and easily buy local," he began.
Further, he informed that it is a myth that local products are more expensive than imported ones. "Many of the local products you will see here today are competitively priced," he affirmed, noting that there are hidden long term costs associated with choosing an imported product over a local one, even if it is cheaper.
He stated, "The cost of a failed local business will be borne by you the consumer, as a citizen and a taxpayer, in a myriad of ways."
Lastly, he noted "It is a myth that we don't make or sell anything here in St Vincent and the Grenadines, if you don't believe me, just look around. There are over 120 exhibitors here today, three times what we had just one year ago. The entrepreneurial energy of Vincentians is palpable, and visible before all of you."
This was a reference to the lines of booths that had been set up under the Geest terminal with a wide range of products, including food, clothing, beverages, accessories, etc, and services, being presented.
Gonsalves informed that buying local could possibly have a big effect, through increase in revenue, and employment, but also stated, "even if this expo and their efforts like it have only a limited impact, that limited impact can mean the difference between profitability and failure, growth and stagnation, jobs and layoffs, in an individual local business."
Both the Minister and the Executive Director of Invest SVG, Annette Mark, noted that the development of local businesses is everyone's responsibility.
"We have a collective obligation to reduce our dependence on imports, by increasing our consumption of local products and increasing opportunities for export driven economic growth in select niche markets," Gonsalves stated.
The Executive Director commented, "The economic development of our nation in any form, and the empowering of our people is a collective responsibility, it is for all of us, the public and private sector, Invest SVG and all other stakeholders, to come together to ensure that we build our nation's economy, and empower our people, particularly the more vulnerable groups in society."
She further appealed, "We need to take the proverbial bull by the horns, and stare him in the face, and take action to assist in making our enterprises and businesses ready for export and making St Vincent and the Grenadines a more competitive market."
Lastly, the Minister appealed to all consumers, "Eat what you grow, buy who you know, and put your money where you house is. Everything Vincy is everything that we are, let us support ourselves."