Posted on
Dominica gets $100,000 rebuilding boost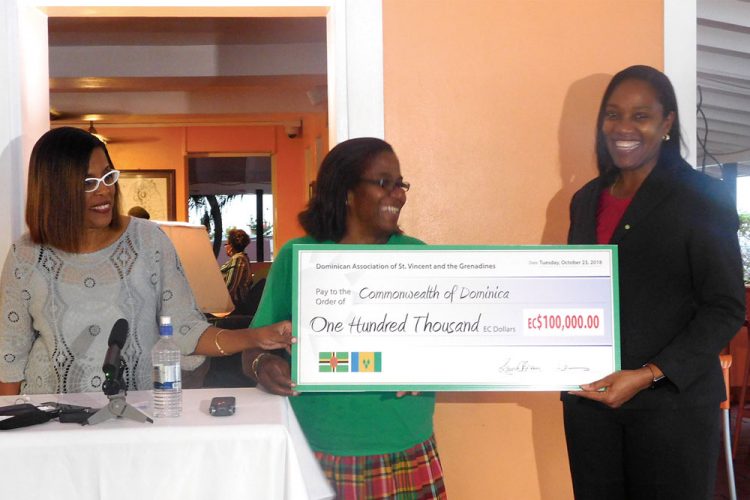 T-shirt sales, wrist bands and generous donations from the people of St Vincent and the Grenadines (SVG) have resulted in a local association being able to hand over $100,000 to Dominica to aid in their rebuilding process.
The Dominican Association of St Vincent and the Grenadines handed over a cheque to Dominican foreign affairs minister, Francine Baron on Tuesday.
"Hurricane Maria was the worst hurricane that Dominica has ever had in its history," Baron said. "For us, it was particularly devastating because I think Dominica was making very good strides and this hurricane has set us back for decades."
The foreign minister said following the hurricane, which devastated Dominica in September last year, many homes were completely destroyed or significantly damaged.
She also said that schools were also destroyed, displacing many children and resulting in Dominica having to implement a shift system.
Baron noted that the country has been able to make strides within the past year.
And she attributes this to the solidarity and support coming from countries with CARICOM, the rest of the Caribbean and groups like the Dominican Association of St Vincent and the Grenadines.
"That immediate response was very important in helping us to deal with the immediate needs of people; for relief, for providing food, water, most importantly and shelter and so the efforts of ordinary people like the people of St Vincent and the Dominicans who are residing in St Vincent, what you were able to gather, to collect on our behalf and to send to Dominica, made a world of difference and our people are deeply grateful and thankful for all of your efforts," she said.
Baron thanked the association for their ongoing efforts, saying that the amount of money that has been raised was remarkable.
Laura Browne, one of the focal points of the association, said that they have donated close to $300,000 in cash and kind to Dominica.
Browne, a Dominican by birth, said that food stuff valued at $13,000, and books and educational supplies totalling $99,907.88 were sent to Dominica to aid those in need.
She added that $20,000 worth of personal effects, clothing valued at $60,000 and building materials were sent as well.
"As you are aware, Dominica is not where it was prior to September 18, 2017. While homes are being repaired and homes have been repaired and while nature is doing its own thing, there is yet a lot of work to be done in reconstruction and rehabilitation in that country," she said. "So we're not sure how we will proceed, if we will proceed, but surely our minds are always with our brothers and sisters in Dominica and we'll continue to do what we can as it becomes possible."
Browne further thanked the government of SVG and the people as well for all the support they have given to the association.
Ernie Harris, a Dominican and member of the association also thanked everyone who assisted in the efforts to help Dominica.
"I would like to appeal to them however, to continue to assist us because Dominica is nowhere close to being what it was. There are lots of people who are still homeless and jobless and they need help. A lot of children need help so please, I appeal to Vincentians and our Caribbean brothers and sisters to assist our people," she said in brief remarks.
Saboto Caesar, the minister of agriculture also delivered brief remarks at Tuesday's ceremony. And health minister, Luke Browne was also in attendance.
The Dominican Association of St Vincent and the Grenadines was started on November 3, 2017 with the aim of providing necessary relief for Dominica.
The association consists of Dominican nationals living in St Vincent and the Grenadines as well as Vincentians.