Posted on
Consistency pays off for Grammar School student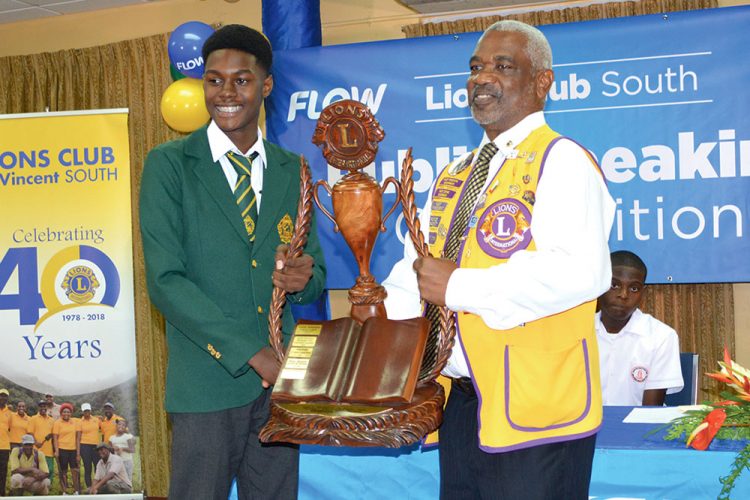 St Vincent Grammar School student, Laron Jones has proven that consistency is key to achieving good results.
Jones was named this year's public speaking champion in the Lion's Club South FLOW Secondary Schools Public Speaking Competition, which took place on Wednesday at the Methodist Church Hall in Kingstown.
Although he did not earn top marks in any of the three rounds, the fifth former beat out five other students to take home the top spot.
"I feel like all of my hard work has paid off because I put many hours into practicing my speeches and practicing my impromptu topics," he told SEARCHLIGHT. "I was assisted by my teachers, my English teachers, they practiced [with] me during school days in the school library and also at home, my parents as well as my sister helped me to practice impromptu topics and so on."
He also believes that his student prepared speech was his best performance of the night. Jones spoke on the topic "Students and Social Media: The struggle is real"; a topic he believes "is relevant and affects students all around the world".
The Twenty Hill resident admitted to having a keen interest in public speaking, having participated in similar competitions at a young age.
In fact, Jones won the 11th Primary Schools Public Speaking competition in 2014 for the Questelles Government School in the same week that it was announced that he was the top performer in the Caribbean Primary Exit Assessment (CPEA).
Lawyer, Roderick Jones told SEARCHLIGHT that he was proud of his son's most recent accomplishment.
"I know he has worked really hard and I also want to congratulate the English department of the St Vincent Grammar School who were very instrumental in getting him prepared. I know he has great ambitions and like any parent, I'm just proud of his accomplishment," he said.
Finalists of the public speaking competition discussed the topic "The politics of decriminalizing marijuana far outweigh the medicinal and economic benefits. Yet, the silence of our church leaders."
Eric Freeman of the George Stevens Secondary School was awarded for having delivered the best speech in this category.
In the student prepared speech category, Kenisha Castello of the St Joseph's Convent Marriaqua gained the attention of the audience and judges as she shared some disturbing facts with her topic; "SOS – Save our seas, a plea to reduce marine plastic pollution".
"During my five-minute presentation, 75 tonnes of plastic will be added to the ocean. This volume equates to one garbage truck full of plastic being dumped in the ocean per minute. At this current rate, we face a future whereby 2025, there will be one kilogram of plastic for every three kilograms of fish; by 2050, there will be more plastic in the ocean than fish," Castello said, as she delivered the winning speech in this category.
Despite a rocky start in the prepared speech category, and going overtime in the student prepared speech category, Kayde Nero, the Georgetown Secondary finalist redeemed himself in the Impromptu category.
Nero chose the topic "Vincentians" and used one minute and 53 seconds to convince the judges that he was deserving of the top spot in this category.
Overall, second place in the competition was awarded to SJCM student, Kenisha Castello while Fitzaria Morgan of Bishop's College Kingstown placed third.
The other finalist was Desra Da Silva of the Dr JP Eustace Memorial Secondary School.