Posted on
Searchlight staff gets crash course in radio broadcasting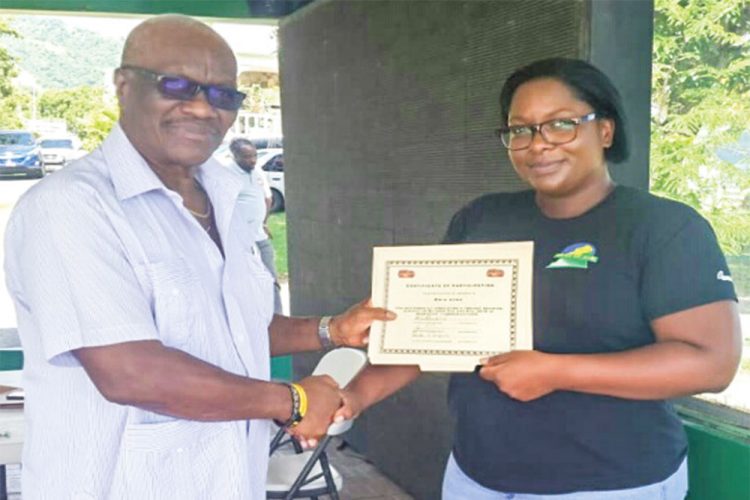 On the path towards establishing itself as a multimedia organization, SEARCHLIGHT took another step by participating in a training session hosted by WE FM last week.
Over the weekend, at the Questelles base of the radio station, media personnel from WE FM and the SEARCHLIGHT newspaper gathered for a two-day training session in broadcast communication facilitated by experienced broadcast journalist since the 1970s, Winfield Callender.
Callender, who is known for his work on radio in Canada and Barbados, and television in Barbados, was called in to WE FM radio to give a crash course on the industry, like one he had given previously to the employees of WE FM when they first started.
"They (WE FM) wanted to give a refresher course to those who would have been in radio before, and those of you who were now getting involved in some way, to give an introduction," Callender explained.
He stated that the intention was to teach those media personnel to remain professional on air, and respect the tenets of broadcasting.
Chief Executive Officer of Interactive Media Limited, and editor of SEARCHLIGHT, Clare Keizer, who participated in the session, commented on the organization's participation.
"SEARCHLIGHT and WE FM have for some time now been working together on different things and the invitation was extended to us to participate in this training," she explained.
She revealed that the two organizations recognize that there are ways that they may be able to work with each other to improve the content they produce.
"…Part of my vision for Interactive Media, is to see us, as our name implies, become a dominant multimedia entity. So I would imagine that going forward, audio, radio, video will be integrated even more in the material that we publish, so I think it was very useful," Keizer stated, while speaking about the session.
For the future, the editor expressed, "I hope that going forward, we have opportunities to avail ourselves of further training, in audio, video and print."